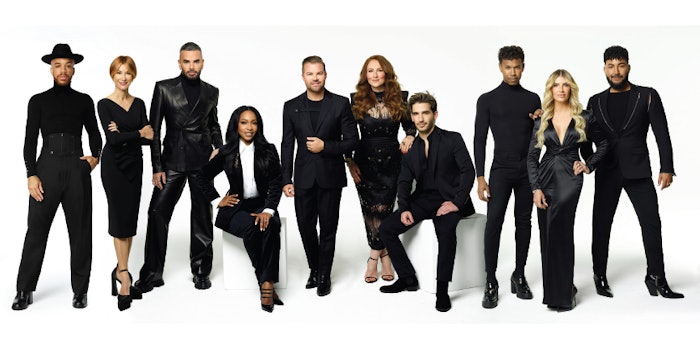 Photo: Roberto Ligresti
Fall is high season for all things beauty, and the experts at Ulta Beauty are elevating style with creativity, collaboration and confidence. Reinvent with tips from the Pro Team. See how all things beauty and education come together to support you.   
In the six years since Nick Stenson joined the Ulta Beauty leadership team, a lot of positive change and growth has happened. He launched the industry's first collaborative Pro Team of brand artists and helped ensure Ulta Beauty could connect and take care of salon associates through the pandemic.
Now, as Sr. Vice President of Stores and Services Operations, Stenson is proud of how Ulta Beauty services professionals keep showing up to lead the industry.
"We've experienced phenomenal growth, and our stylists, skin therapists, makeup and brows artists are thriving in exceptional careers," he says. "We had almost 700 stylists and skin therapists exceed $100k in services revenue last year. Next year, we aim for more than 1,000 to break that threshold. Stylists tell us they earn more because we give them the tools to own their success."
Sr. Director of Education and Creative Anna Manukyan is passionate about helping beauty professionals build lucrative, financially sustainable careers, and enhancing salon education to create possibilities at every stage.  
THE STORY OF U 
Along with the Pro Team, Ulta Beauty's culture of education includes: 
A multi-talented Design Team of 21 behind-the-chair Ulta Beauty stylists who serve as ambassadors, content creators and on-set experts.
More than 100 full-time Ulta Beauty Services District Educators who customize in-salon, hands-on and online classes for stylists, skin therapists and makeup artists for the 10-12 salons in their districts.
Next-level resources to empower stylists to take care of any guest who walks into one of 1,350 Ulta Beauty locations across the country.
"We had many win-win accomplishments this past year, with more in motion," Manukyan says. "We added fashion and editorial stylist Vernon François to our Ulta Beauty Pro Team and doubled down on makeup expertise with the addition of Mat Wulff. We expanded business education, launched the Own Your Success program, and updated our Assistant Stylist initiative. We are in the process of recharging our Ulta Academy education curriculum to take care of Hair for All, with built-in expertise in extensions and all textures. We are expanding our makeup and skin care services and will soon break news about exclusive education and partnerships with top dermatologists and other wellness experts."
All this change and growth reflect how beauty is evolving today, she explains.
"Coming out of the last couple years, we've really witnessed a global transition in beauty," Manukyan says. "There's an opportunity to help our guests feel their most beautiful, to customize and offer a look or service so they feel their most confident and secure. Our salon professionals are helping them embrace their beauty from within."
They do it with an approach to wellbeing that Ulta Beauty, the largest U.S. beauty retailer and provider of beauty expertise, can leverage.
"How do you take the inspiration you see in the world and make it your own, instead of conforming," Manukyan. "That's the question our professionals help answer every day. And we'd love to talk to you about it, too."
To learn more, visit an Ulta Beauty near you and speak to the salon or store manager, go to careers.ulta.com or text SERVICES to 97211.
"Stylists tell us they earn more because we give them the tools to own their success." —Nick Stenson, Ulta Beauty Sr. Vice President, Store and Services Operations
FALL FOR U
A new season means it's time to refresh client recommendations and look for new opportunities to save time, build tickets and lock in guest loyalty. We asked experts from the Ulta Beauty Pro Team: What are your favorite beauty hacks and trends for fall?
CONFIDENT STYLE
"We have a saying at Ulta Beauty, Nick Stenson explains. "You don't come to our salons or stores to get beautiful. You're already beautiful. Our job is just to make it easier for you to embrace, enhance and love your natural beauty."
The goal is to recommend products that are performance-driven to create desired results, not solely based on the hair type or person. Customization is key.
"Sometimes you'll want to add moisture and shine, sometimes volume and shine, sometimes your roots need an extra lift, or your entire style needs a boost of texture spray." He has curated a 12-item Nick Stenson Beauty luxury haircare collection—every product is a hero, he says—designed to cocktail as needed.
One of Stenson's favorite hacks heading into Fall came up during an Unveiling Beauty episode he hosted with Dyson. "Don't over-dry the hair before styling. Stop at 80% dry and use the moisture still in the hair to help seal down the cuticle and lock in the curl, with the appropriate thermal prep and finishing products."
DETANGLE, WITH LOVE
Stylists flip for this simple detangling hack from editorial stylist Vernon François that protects the surface layer of the hair.
"Flipping your paddle brush so that the bristles are facing towards you will give you a better perspective," François says. "The undercurrent of tension is significantly reduced. When you're able to physically look at what's happening in real-time, you're able to work the tangles and knots with ease, reducing breakage and damage."
François uses this hack all the time. "Always approach detangling with love and patience, starting from the ends of the hair and gently working your way upwards towards the roots."
BALLET CORE
Get into dressing hair again, Michelle O'Connor says. She was backstage at New York Fashion Week with Nick Stenson Beauty for the Alice + Olivia show, sponsored by Ulta Beauty, and got hands-on with Ballet Core, a trend she sees continuing through Fall 2023.
"Think hair bow embellishments with rich fabrics like velvet and sparkling stones made of crystals and metal," she says.
Create a bun that sits higher than the nape, but lower than the crown.
Twist the pony into a two-stranded rope twist or simply twirl the hair into one big whirl.
Wrap the ponytail around its base and secure ends with pins.
This sleek, elegant style can be brushed straight back or have a middle part. The ribboned bow look has options—a half-up, half-down formation; or as the final touch on a ponytail, placed high or low.
"The tip is to exaggerate the length of your hair, with extensions if necessary, and adorn with the simplicity of a velvet bow, while the fabric or embellished stones bring next-level lux."
BARBIE-LONG HAIR
Like most Fall trends, this one got an early start and is still building momentum, explains Danielle Keasling.
"Celebs like Ciara, Mindy Kaling and Naomi Campbell graced the Met Gala runway with long, lush styles," she says. And, hello, Barbie! Even Nikki Minaj rocked the red carpet in Rapunzel locks at the movie premiere."
Since we're likely living our best Barbie dream looks well into holidays, it's a perfect time to build your services ticket with extensions and beautiful hair color—for blondes, brunettes, reds, vibrants, everyone.
Upsell, upsell, upsell, Keasling says. Encourage your guests. "Rock the hair of your dreams, regardless of age. It's on trend!"
BUMP UP THE BASE
Sean Godard has a beautiful hair color hack he's leaning into for Fall. He brightens natural bases to take away contrast, using liquid permanent hair color to bump up the natural level.
"I like to work with liquid color like Redken Color Gels oils because it applies quickly and easily. I use a bottle for speed and can do this between foils or prior to a balayage, processing 35 minutes depending on desired results.
Win for the stylist: fewer foils or balayage time, because the contrast isn't as extreme.
Win for the client: they can come in for root touch-ups versus a whole highlight for the next several visits.
"It's more cost effective, but also a returning client," Godard says. "Pre-book for the win-win!"
FOXXY FALL LASHES
This Fall, the eyes have it. And sometimes a little less can make more of an impact. Makeup expert Mat Wulff explains:
To give eyes more of a lifted effect, he likes to use a half lash to create a Foxxy-Eye look. Or you can customize. "If you only have a full-lash strip, simply cut it in half or use three-fourths of it," he says.After placing lash glue on the band, place the partial strip of the lash on the outer corner of the eye.
Pro tip: Place the outer corner of the lash strip slightly above the lash line instead of right on the lash line. If there is a gap, fill in with black liner or shadow for a seamless blend.
ARE U OUR NEXT $100K STYLIST? 5 REASONS U SHOULD BE
Ulta Beauty helps you achieve your career goals, your way.
Your success is not just about mastering a beautiful balayage or the latest take on the butterfly cut, although Ulta Beauty excels in delivering that kind of training and content. We also make sure every artist has the tools to learn, practice, set goals and build your business.
Whatever you want most is what we help you develop. Whether it's to grow creatively, achieve financial strength and independence, learn new skills in hair color, cutting, extensions, texture, social media and more, Ulta Beauty has the means and the behind-the-chair experts and teams to make it happen.
We keep it real: We are always asking, "What do beauty professionals need to know right now, and how can we help?" We constantly evolve our education.
Creating wow experiences is the Ulta Beauty difference. In 2022, we grew the number of beauty pros on our team who generated more than $100K in services to almost 700 stylists and skin therapists. And we aim for a thousand stylists at that level in 2023. You can be next!
Disclaimer:
The above paid-for content was produced by and posted on behalf of the Sponsor. Content provided is generated solely by the Sponsor or its affiliates, and it is the Sponsor's responsi­bility for the accuracy, completeness and validity of all information included. Beauty Launchpad takes steps to ensure that you will not confuse sponsored content with content produced by Beauty Launchpad and governed by its editorial policy.