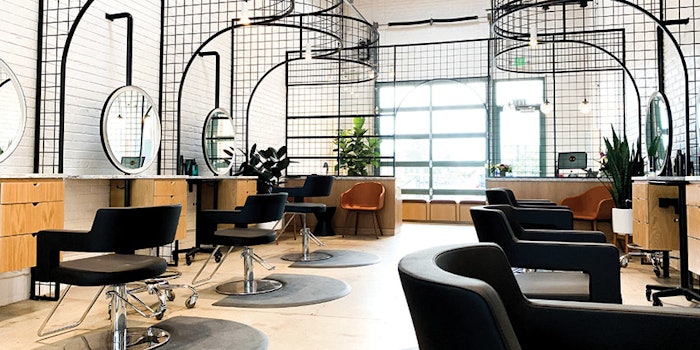 Craft Collective /
Denver
Mick Lewis (@hairbymickk) doesn't mince words when he talks about the origins of Craft Collective(@craftcollective_), his salon in Denver's desirable Cole neighborhood. Bottom line: This wasn't his dream. "I honestly never really wanted to open a salon. I thought I'd always be an employee and just do beautiful hair all day and get to walk out the door and not think about work," he admits. But Lewis—who got his start as a hairstylist in 2006 as a student at the Aveda Institute in Denver, moved to San Francisco to push his craft, trained at the illustrious 901 Academy in Los Angeles, and then moved back to Colorado to build his clientele—became disillusioned upon returning to his home state. "I was struggling to find a salon that took the craft of hair as seriously as I do," Lewis says. Stints at various salons always proved unfulfilling—until he met Linson [Jamison], a fellow stylist who inspired Lewis to think bigger. "Once it became clear that what I wanted as a working environment didn't exist [in Denver], I decided to build it," he says, adding, "Hands-down the best and hardest decision of my life."
That decision produced Craft Collective in 2020, a 1,100-square-foot visual feast that foregoes the rinse-and-repeat aesthetics of what Lewis calls "your typical Pinterest salon." Tapping architecture firm Unum Collaborative, Lewis set out to create a space that "looks like a guy owns it," but isn't overtly masculine. "I told Unum, 'I want it to look like no salon in the world.' I think they hit the nail on the head," he says.
Original brick walls that date back to WWII (the building housed medical supplies during the war) received a sandblasting and fresh coat of white paint to brighten the space. Also original: the unfinished concrete floor, which Lewis decided to keep as an ode to the building's history. The natural wood ceiling boasts three round, centrally located skylights that flood the space with outdoor light to help colorists hone their pigmented creations more easily. "Everyone obsesses over the garage doors," Lewis adds, noting that both the front and back of Craft Collective have their own floor-to-ceiling retractable doors that allow for a breezy, open-air work environment—a definite bonus during the pandemic. And then there are the steel dividers: Each latticework divider curves and hugs the workstation, looking both airy and substantial. "It was important that they were elegantly shaped to keep it soft-looking," he says. "We also wanted each station to feel like it is its own vanity; I love how the steel creates a sort of separation between stations."
While the space is matchless in design, Lewis places the highest value in his staff—after all, this is why he opened Craft Collective in the first place: to create a working environment and team that he wanted to be a part of. "We all learn so much from each other and push each other to be better than the day before," Lewis shares. In fact, the name Craft Collective is born of this idea: to push and pull and learn the art of hair together. "I wanted the name to inspire teamwork. This industry can be pretty competitive and I didn't want that vibe in the salon," Lewis says. And it seems as though, even with the hardships of 2020, the team is strong even in its infancy. "Craft Collective would not be what it is without the amazing team we have," Lewis says. "I'm so thankful that they've jumped on this ride with me."
For the full article, check out Beauty Launchpad's January/February digital magazine.