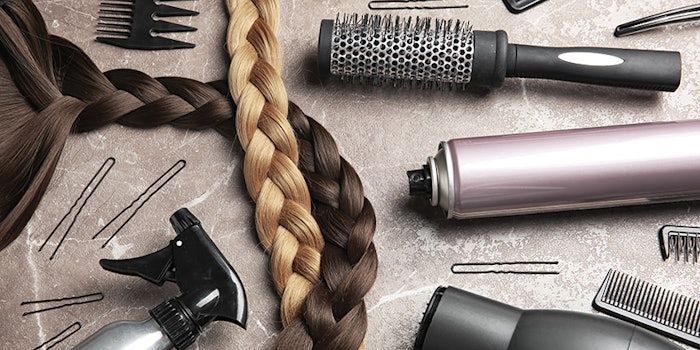 During the height of the pandemic, while salons across the country were forced to shut down and there was much uncertainty about the future of small businesses, brands took action. Whether donating funds directly, setting up grant programs, establishing online voucher systems or reducing the cost of products, here are just a few of the many manufacturers who stepped up in support of the industry to give back.
*Manufacturers and organizations listed in alphabetical order.
Andis
Andis is offering free live education through their Facebook page with top artists from their team, as well as provided 600 barbers with free sanitizer and maintenance kits.
Aveda
To help salons reeling from COVID-19 closures, Aveda launched the multimillion dollar relief program, Aveda Cares. Some of the program's initiatives include a $600,000 donation to The Salon & Spa Relief Fund, which allows stylists to apply for grants of $5,000 to restart their business and is valued at $1.5 million. Aveda Cares also features an increased online-based commission program, extended terms for applicable salons, free education, a virtual owners forum and funding reserved for Aveda's loyalty program.
Beauty Changes Lives
Sponsors of the eighth annual Beauty Changes Lives (BCL) Experience have answered the industry's call by funding the BCL grant program for the styling community. Thanks to L'Oréal, Wella Professionals, Ratner Group, TIGI, KMS, Moroccanoil, Pivot Point, Ulta Beauty, Borboleta Beauty, Hattori Hanzo, John Paul Mitchell Systems, Oribe, American Association of Cosmetology Schools Board of Directors, International Spa Association, AG Hair, Ergo and Greg Dawson & Associates, BCL was able to offer an additional $70,000 in funding to applicants.
Bellami
Bellami is giving back by partnering with the Professional Beauty Association (PBA) and contributing $100,000 to the COVID-19 Relief Fund. The brand also donated $100,000 worth of hair extensions to 200 in-network stylists and shared complimentary education training valued at $100,000 with 125 stylists. "Hairstylists are the backbone of Bellami: We are here because of them, and we will do anything we can to assist them through this challenging period," says Bellami cofounder and CEO Julius Salerno.
Coty Professional Beauty
To show its support of the industry, Coty Professional Beauty has established a $200K fund through the Hairdressers at Heart program. Stylists and manicurists will be awarded up to $1,000 per cash grant to be used as they deem appropriate. Coty has also given back to communities with free education, sending 800 iPad Minis to the Los Angeles school district, donating more than 180,000 gloves to healthcare workers in New York and Los Angeles, and manufacturing hand sanitizer for New York medical professionals.
Eufora
Eufora is providing free digital education on a weekly basis for easy stylist access.
Framesi North America
To address the coronavirus pandemic and specifically assist the affected beauty professionals, Framesi began providing stylists with free disposable color capes to encourage in-salon sanitary practices and kicked off a Salon Reopening Promotions program. The program ran from May to July, and included discounts on products. The Framesi executive leadership team has also prioritized outreach, calling more than 2,300 Framesi salons to offer first-hand support and answer individual questions.
Global Partner Alliance
Global Partner Alliance (GPA) designed the External Defense Face Protection Shield to keep clients and stylists safe from COVID-19. "I realized this is something every hairstylist should have in order to work safely," says GPA founder and CEO Shauky Gulamani. "We want these to be available to everyone at $10 per piece."
Grande Cosmetics
To help support those most affected by COVID-19, Grande Cosmetics donated a significant portion of sales proceeds to Feeding America, helping to subsidize access to food for those in need during this unprecedented time.
@Guy_Tang #MyDentity
@Guy_Tang #MyDentity founder Guy Tang donated more than $1 million worth of hair care products to organizations supporting those affected by COVID-19 internationally as part of Henkel's COVID-19 global solidarity program. This includes providing products to frontline and essential workers, as well as those in shelters who are priced out of personal care products. "With the coronavirus leaving the less fortunate in dire straits, I'm extremely grateful to be able to use that same power and inspiration to help those in need," says Tang. "We are all in this together."
Hairdreams USA
Hairdreams USA launched the #HelpSaveHairdressers program, pledging to donate 25 percent of consumer product sales to the PBA COVID-19 Relief Fund and creating a dedicated page online where shoppers can buy discounted vouchers.
Henkel Beauty Care Hair Professional
In support of stylists everywhere, Henkel donated $200,000 to the PBA COVID-19 Relief Fund. Henkel is also donating more than 200,000 units of product and monetary funding to organizations such as Beauty Changes Lives, Dress for Success, Seattle's Union Gospel Mission and Project Beauty Share to help frontline workers and those in the virus' epicenters.
Henkel Beauty Care Hair Professional includes Alterna, Joico, Kenra, @Guy_Tang #MyDentity, Pravana, Schwarzkopf Professional, Sexy Hair and Zotos Professional. In addition, Henkel Beauty Care Hair Professional launched an e-commerce program, HelpYourSalon.shop/us. The site allows stylists and salons to retail Henkel professional products to clients and generate additional income.
Horst Rechelbacher Foundation
The Horst Rechelbacher Foundation is giving back with a generous donation for COVID relief organized by Beauty Changes Lives—and encouraging brands to match their grant. Nicole Rechelbacher, daughter of the late Horst Rechelbacher, contributed $80,000 to the fund, bringing the Foundation's total to $104,000. "We as an industry need to come together to help those impacted, and I'm so honored to continue my father's legacy of generosity and supporting an industry he loved dearly," says Nicole Rechelbacher.
Innersense Organic Beauty
Beauty professionals and founders of Innersense Organic Beauty, Greg and Joanne Starkman, established a $500,000 Replenishment Fund for their salon and stylist partners to ease the transition of returning behind the chair. The fund is designated for the restock of retail inventory, backbar and samples.
John Paul Mitchell Systems
To demonstrate the brand's commitment to the styling community, John Paul Mitchell Systems (JPMS) unveiled the JPMS Salon Jumpstart Stimulus program, a $4 million plan designed to help ease financial strain through free hair color and backbar products. The company is also launching a social platform within its pro site, deemed Social Gathering, for professionals to connect remotely. JPMS has been working with the government and salons on safety guides, with the indomitable John Paul DeJoria advocating on behalf of salons. Also, to make sure all stylists stay informed on evolving new salon recommendations, JPMS offers a Back to Work Safety Guide available through its website.
Joico
Joico is inflecting some joy into an otherwise dire situation by launching "The Big Give-Back" campaign and sweepstakes, which awards $1,000 for the cost of salon expenses, weekly. The contest, which began on April 1, runs until the end of the year. The brand has also launched on-demand digital education for stylists to keep up with new techniques while in quarantine, and features Larisa Love, Gina Bianca, Ricardo Santiago, Jill Buck, Olivia Smalley and Zoë Carpenter.
Kao Salon Division
To offset the downturn in the industry that resulted from COVID-19, Kao Salon Division has launched two programs to help stylists thrive: the Kao Salon Industry Recovery Initiative, a relief program for those affected by coronavirus around the world, which includes a package valued at $5.6 million designated for North America; and #WorthTheWait, an online campaign targeting consumers. The campaign emphasizes the real cost of DIY hair solutions, encouraging consumers to wait until salons reopen before experimenting with cut or color. "Our priority during this crisis has been to galvanize our efforts around the full and complete recovery of the industry as a whole, with a special focus on our partners and stylists," says Cory Couts, global president of Kao Salon Division.
KISS New York Professional and Ruby Kisses
Makeup can provide a pick-me-up during even the most trying times, which is why KISS New York Professional and Ruby Kisses donated hundreds of beauty products to frontline workers at Long Island Jewish Hospital in Brooklyn, New York, and The Women's Hospital of Texas in Houston, Texas, through the Donate Beauty initiative. The brands donated a mix of products, including lip balms and oils, face cleansers, makeup remover and sheet masks.
Moroccanoil
Moroccanoil launched a $3 million recovery program for salon professionals. The program includes access to resources needed to rebuild businesses, keep in contact with clients, and ensure sanitary conditions for customers. The multifaceted plan also includes $2.8 million in station support and backbar products to salons, working with the PBA Safe Salon Charter; donating 100 percent of proceeds from a virtual shopping event to the PBA COVID-19 Relief Fund and Beauty Changes Lives; as well as offering free online education opportunities.
Olaplex
Olaplex knows that styling professionals are the backbone of the industry and pledged $1 million in product support to hair professionals in the United States. The company began its Salon Support Gift Card Program on May 27, matching every $50+ gift card sold to clients with Olaplex products. A total of 2,000 salons were eligible to participate. The matching program comes in addition to the brand's $300,000 Olaplex Strong Assistance Program and the Olaplex Professional Affiliate Program that generated close to $300,000 in commissions to Olaplex affiliates.
Olivia Garden
Olivia Garden is producing masks, disposable capes and other products to ensure stylists and clients remain as safe as possible during this pandemic.
OPI
OPI wants the industry to get back on track, which is why the company launched the Bounce Back Program. This initiative supports beauty pros and also extends directly to consumers. As part of the program, OPI contributed $200,000 to Hairdressers at Heart and helped connect nail pros to government resources in the wake of COVID-19. The brand also worked with nail techs on creating take-home kits to send to clients and hosted weekly virtual education sessions. OPI will also send sanitation essentials including masks, gloves and antibacterial hand wash to partners upon reopening as well as guidelines that outline new safety measures.
Oribe
In support of stylists, Oribe upped the ante on rewards, offering salon owners 50 percent of products sold online through the salon commission rewards program until July 1, 2020. The brand also froze all points earned from the Rewards Tier and Loyalty Points as well as its Education Points, which will not expire in 2020.
Ouidad
Ouidad's parent company, Beauty by Imagination, donated 100 percent of ouidad.com proceeds on National Hairstylist Appreciation Day to the PBA COVID-19 Relief Fund. "As a company that's passionate about empowering beauty professionals, we feel a commitment to support the community of artists who are suffering from a loss of income due to this global pandemic," says Francesca Raminella, chief commercial officer for Beauty by Imagination.
Professional Beauty Association
The PBA stepped up during the coronavirus crisis, supporting an industry devastated by the pandemic through several initiatives, including the PBA COVID-19 Relief Fund, which generated more than $1 million and helped thousands of beauty professionals stay afloat. Many brands gravitated toward the fund, with Alterna, Joico, Kenra, @Guy_Tang #MyDentity, Pravana, Schwarzkopf Professional, Sexy Hair, Zotos Professional, Amazon Professional Beauty and Bellami among the long list of donors. The PBA has also functioned as a resource for new safety guidelines, posting a series of webinars dedicated to the new recommended practices. The association is also lobbying in Washington to ensure new federal legislation includes the beauty industry, and campaigning for an extension of the Section 45B FICA tax tip credit as part of the stimulus package to efficiently provide an immediate cash infusion for salon, spa and barbershop employers. Lastly, the PBA revamped the guidelines for entry in the North American Hairstyling Awards, extending the submission deadline through October 2 to accommodate artists during this time.
Schwarzkopf Professional
Schwarzkopf Professional backed the global styling community with the Henkel-created HelpYourSalon.com Hairdresser Support Initiative. The initiative is a free platform where stylists can sell vouchers to generate extra income.
Theradome
A portion of profits from the Theradome Laser Phototherapy device for the treatment of hair loss will be donated to the PBA COVID-19 Relief Fund.
Valera USA
Valera USA offered a $200 COVID-19 cash-back credit with every purchase of 6pcs Classic 1955 + 6pcs Vario Pro 7.0 through May 31, 2020, exclusively for salons.
Viviscal
Viviscal committed to donating up to $100,000 to the PBA COVID-19 Relief Fund. "As a stylist and salon part-owner myself, I know I speak for stylists and salon owners across the country when I say we're a strong community and are extremely thankful for brands like Viviscal that are rallying to show their support," says Mara Roszak, celebrity hairstylist and Viviscal ambassador.
WAHL Professional
In addition to offering free education, WAHL Professional pledged to donate 50 percent of the purchase price of any 1919 by WAHL Professional men's grooming line product to the PBA COVID-19 Relief Fund last May. "We know that these are hard times, and we're glad we can partner with PBA to help further contribute to the COVID-19 Relief Fund," says 1919 product manager Allan Vodicka.
z.one concept USA
z.one concept USA launched a Back to Business support program to help lessen the financial burden salon owners and stylists face following closures. The Back to Business initiative includes a comprehensive loyalty program, enhanced education support system, a broad color swap initiative, and a significant reduction in retail and professional product costs.