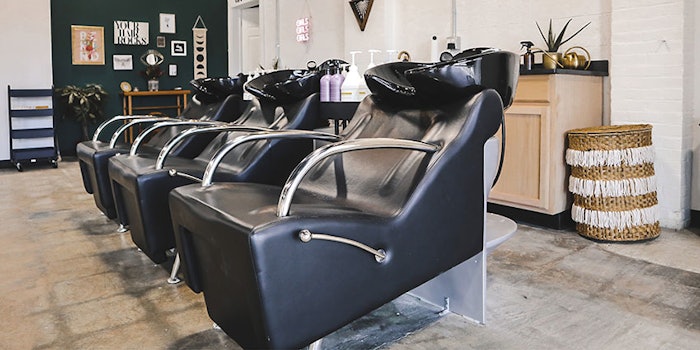 Rock & Soul / West Hartford, Connecticut
Meg Moran and Mish Jolie had two very different paths to hair. Jolie started off as a makeup artist and decided to hone her skills at cosmetology school where—fate would have it—she discovered a love of haircolor. Moran felt predestined to be a hairstylist—so much so that she skipped her SATs and went straight to cosmetology school. But both really discovered their calling when they came into contact with one technique: balayage. "[Brunette balayage specifically] was a complete game changer for me; my career really took off and I started educating on all things brunette!" says Jolie. Adds Moran, "I'm a hands-on learner and [balayage] was all about feeling. I loved the end result and how much fun I had doing it." As fate would also have it, the two crossed paths working at a color-focused salon and their bond was immediate. "We were already planning our lives outside of this salon. We made it a goal in 2016 to open a salon in four years—it's now 2020 and our manifestation came to life," she says, adding, "We're the same person, with the same passion and dreams. I know the universe aligned us for a reason." Agrees Jolie, "She's the yin to my yang."
That fated salon, Rock & Soul, located in the up-and-coming Elmwood neighborhood of bustling West Hartford, Connecticut, spans 2,067 square feet and affords the two co-owners the lifestyles they both desperately needed. "I live with depression and I have to work at my own pace and take the time to heal when needed," shares Jolie. "I knew I wanted something I could call my own—for the freedom and for lowering my anxiety about pleasing owners." Moran, a mother, craved balance. "When working for people, you can't take all this time off like I do now to actually have family time. Plus, I needed the balance in order to give my clients the best version of me," she admits.
Naturally, balance is a core tenant of Rock & Soul. The name not only reflects the co-owners' love of '70s rock music, but also the inner and outer harmony Jolie and Moran wish for their staff and clients. "We wanted Rock & Soul to be a place where stylists could be their own bosses and follow their dreams. We also wanted clients to feel more than outwardly beautiful—we believe in beauty on a soul level, too," says the duo.
Within Rock & Soul's walls, this harmony is attained amongst decor pulled from the rugged-chic aesthetic of '70s rock 'n' roll and the clean curves of mid-century modern style. A large expanse of raw concrete floor and exposed air ducts play up an industrial feel, yet the space feels incredibly homey thanks to an eclectic assortment of furniture in the centrally located waiting area. "We incorporated a ton of texture inspired by the '70s with brown leather, dark wood and wicker furniture," the duo shares. Moran, the "resident thrifter," sourced several pieces from vintage markets and thrift shops, such as a gilded gold 1920s mirror that hangs in the salon's bathroom and a '50s-era wicker record holder. Newer pieces, like a comfy blue velvet couch by Article and a sputnik chandelier, conjure the retro-futuristic feel of mid-century modernism. But the biggest visual draw, a giant glass retractable garage door, certainly steals the show while providing what hairstylists always desire: natural light. "It's our biggest jaw-dropper. Everyone is waiting for that garage door to be open when the summer comes!" they thrill.
What's Unique
Crystals Cleared: Healing crystals dapple the space and come in handy when clients need a mental boost. "If a client is sad or upset, we give them a crystal to hold," say Moran and Jolie.
Therapy Sessions: "Our stations are set pretty far apart so that everyone feels like they can have the 'therapy appointment' they really need," they say. "Clients know they can talk to us about anything because both of us speak openly about our struggles with depression and anxiety on social media. We've even been known to do a quick tarot card reading from time to time, too!"