Our 8th annual 30 Under 30 spotlight highlights the next generation of colorists — all under age 30 — who are poised to take their careers to the next level. Hailing from coast to coast and different countries, these color experts comprise an eclectic 2020 crew. We learned about their lives and hue loves, who motivates and what inspires them, how they got started and where they hope to go. Casey Lail (@caseyfisherlail) is a 25-year-old Master Colorist at Mirror Mirror Hair Salon in Lenoir, North Carolina and a John Paul Mitchell Systems National Color Educator.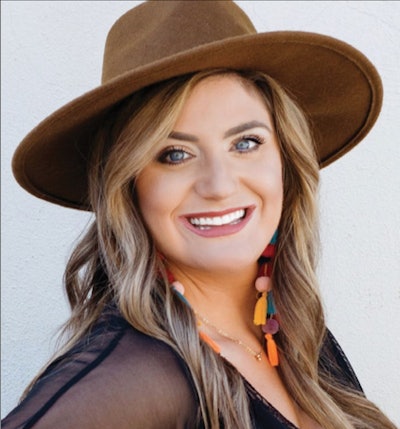 Tell us about yourself. 
I am a wife, hardcore dog mom, travel enthusiast, Disney World-obsessed and mac n' cheese lover! To be honest I was inspired to become a colorist when I was in middle school. My dear mother, who is not a licensed cosmetologist, decided to become a "kitchen beautician" and box color me some highlights she pulled through a cap. I was so proud of them until I went to school and a Mean Girl told me I had "cheetah spots" all over my head and that my hair reminded her of her grandmother, because my highlights were gray, aka super ashy. Obviously, now I know what went wrong, but at the time I was so humiliated that I wore my hair in a ponytail for an entire year. Eventually my mom took me to a salon to get real highlights and they turned out so beautiful! In my eyes, the stylist was a superhero for fixing my hair, and I wanted to be a superhero too, which lead me into pursuing the beauty industry as I got older.
What do you hope to achieve in your career?
I am a super goal-oriented person. I hit one major goal, give it it's moment, and then I'm looking onto the next goal to achieve. I'm a type 3 "The Achiever" on the Enneagram test, which couldn't be more accurate. I have a lot of goals, and that's what I love so much about this industry—the goals and possibilities are limitless! I would like to become a main feature artist headlining multiple shows for Paul Mitchell around the world, teaching and inspiring other artists on a bigger scale. In the next few years I would like to open my own salon and eventually have multiple salon locations.
Any accomplishments so far that you're most proud of? 
Being nominated for Top 30 Under 30 is a huge accomplishment for me so far! After this I would say being on stage doing color for Paul Mitchell at a few of the Fashion Focus Shows put on by CosmoProf.
What do you love most about being a colorist?
The creativity, art and science behind color is my favorite part! Getting to see a salon guest feel beautiful and confident after receiving a color service really is the icing on the cake!
Who would you consider to be your mentor/role model, and why?
Oh goodness, I have a few! Robert Cromeans for his stage presence skills—I love being on stage and really look up to him for that. Colin Caruso for his artistic eye for color applications, and Stephanie Kocielski for her incredible business approach in our industry. And yes, they are really as nice and wonderful as they seem in real life!
What's your favorite color trend/technique of the moment?
My favorite trend is certainly balayage/tease-lights and my favorite technique at the moment is the herringbone technique through the Mohawk area. I love this because it gives such an organic feel once the light falls into place. It's also a great touch-up technique for balayage maintenance appointments without having to do the entire head again!
Who or what inspires your color work?
I am totally inspired by nature, specifically the ocean. I love the ocean and all of its depths, brighter areas, reflection and movement. Just like you could find in hair! 
What makes you most proud to be part of this industry?  
I am most proud and blessed to be a part of this industry because of the love and support among stylist, and also because we truly have one of the only careers where you get out what you put in and the possibilities are endless because there is just so much you can do and create with a cosmetology license!