Our 8th annual 30 Under 30 spotlight highlights the next generation of colorists — all under age 30 — who are poised to take their careers to the next level. Hailing from coast to coast and different countries, these color experts comprise an eclectic 2020 crew. We learned about their lives and hue loves, who motivates and what inspires them, how they got started and where they hope to go. Michael Rockafellow (@m_rockafellow) is a 28-year-old stylist at The Boulevard Hair Company in Webster Groves, Missouri.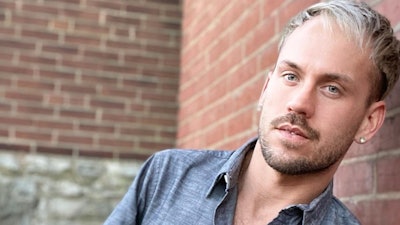 What made you decide to become a colorist?
I was so lost when I was going to community college, and when I was 18 I met this salon owner who eventually would help me navigate the path to becoming a hairstylist. At the beginning I doubted myself because having one arm this meant that is the last career I thought I would have, but it's been the most rewarding. 
What are your goals?
Eventually I would love to open my own salon company, then I would eventually love to travel to cosmetology schools and share my story with students and hopefully lift them up to find their inner voice to be as successful as possible. 
RELATED: Check out all of this year's 30 Under 30 Winners! 
Any accomplishments so far that you're most proud of?
My most recent achievement would be making on this list! Then I would say becoming a Matrix Artist. Next I would say being on the local news many many times and even making it to Daily Blast Live! I finally achieved my goal of becoming a hairstylist in 2018, and I couldn't be more proud! 
What do you love most about being a colorist?
I love being a colorist because to me you really make humans hair dreams come true! I love doing vivid hair because of how It makes humans heads turn! The reaction you get from color is so satisfying! To me, the first thing humans notice is someone's hair color, so to be able to say, wow, I did that is freaking rad! 
Who would you consider to be your mentor/role model, and why?
First definitely one of the owners of the salon Abby Cullenton, she is the reason I got my license. Then in no particular order, Paizley Bredin, Amy Hemeyer, Constance Robbins, Abbey Huchzermeier and Elizabeth Fuchs. So many more, I'm not afraid to ask questions when I don't know something so I ask whomever is willing to guide me in the right direction! 
What's your favorite color trend/technique of the moment?
I love lived-in hair! I like chunky and bold. Most of the time clients want to stand out and feel beautiful, but they also want something that grows out and they can get the most out of there hair and lived in does that! 
Who or what inspires your color work?
My home town of St. Louis has the best! Kristina Cheeseman, Caitlin Ford, and Caitlin Tyczka. They create bold, fun and thoughtful hair and they always blow my mind! Each time I've probably  annoyed them with questions they have been so nice and easy to understand without talking down to me and that's freaking rad. 
What makes you most proud to be part of this industry?
What makes me proud to be part of this industry is that even when we are going through hard times, we have offered each other guidance, we offer free education and motivation to keep each other going! Even when I wanted to give up on my dreams because of my fear of success, many folks in the industry were there to help lift me up and guide me! Here's to a very bright future and so excited to see what is next!