Our 8th annual 30 Under 30 spotlight highlights the next generation of colorists — all under age 30 — who are poised to take their careers to the next level. Hailing from coast to coast and different countries, these color experts comprise an eclectic 2020 crew. We learned about their lives and hue loves, who motivates and what inspires them, how they got started and where they hope to go. Chris Weber-Mirlach (@chrisweberhair) is 28 and owner of Vanilla Loft in North Vancouver, British Columbia, Canada.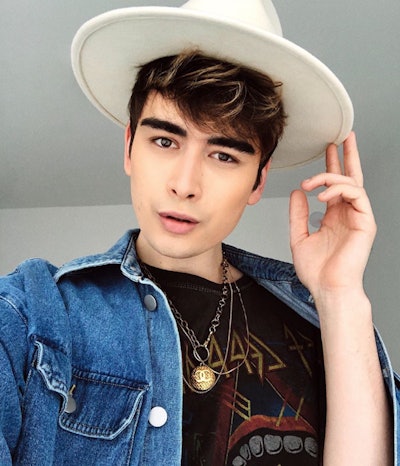 Tell us about yourself.
I am extremely passionate when it comes to Hair. Its definitely my dream job! I went to hair school in 2008 in Frankfurt, Germany. I moved to Canada in 2012 and have worked in some of the trendiest boutique salons in Vancouver. In 2018 my husband Patrick Mirlach and I decided to open up our very own hair studio Vanilla Loft in North Vancouver. I specialize in effortless-looking colors and styles. I am well known for bright/dimensional blondes and brunettes. I was lucky to be able to work with some actors, musicians and very well known influencers in the past few years. I got inspired to become a colorist because of my interest in fashion and beauty. I did my first colors in high school and knew from a young age that I want to become a colorist .
What are your goals?
My main goal is to never stop growing and learning. I always make sure to keep a healthy balance to stay always inspired and creative. I would love to educated more and be able to collaborate with many other amazing artists in my industry. I always keep my options open because we never know what comes next.
Any accomplishments so far that you're most proud of?
Most definitely my salon Vanilla Loft that I got to open with my husband. As well all my amazing collaborations I did with some of my favorite artists like Lo Wheeler Davis & Chrissy Rasmussen. 
What do you love most about being a colorist?
The creative part. I absolutely love the different techniques and placements. The process is also very meditative. Next to that, I love connecting with my clientele. I truly love my clients whom I have been able to build relationships with over the past years. 
Who would you consider to be your mentor/role model, and why?
I have many role models in the industry. I would say they are more an inspiration to me. My biggest inspiration and the artist I look up to is Kristin Ess. I admire her eye for colors and texture. She has build such an amazing brand around herself. Truly Inspiring!
What's your favorite color trend/technique of the moment?
My favorite color trend is definitely the lived-in look. It is such a beautiful low-maintenance and healthy look. I love that the money piece and warmth is coming back.
What makes you most proud to be part of this industry?
I get to make people feel more beautiful on a daily basis. I know that sounds cheesy but it's true. Also I love to be able to teach other artists techniques and ways of making their hair dreams come true.