Our 8th annual 30 Under 30 spotlight highlights the next generation of colorists — all under age 30 — who are poised to take their careers to the next level. Hailing from coast to coast and different countries, these color experts comprise an eclectic 2020 crew. We learned about their lives and hue loves, who motivates and what inspires them, how they got started and where they hope to go. Maguy Rosen (@themaneartistry) is 24 and works at her eponymous salon in Minneapolis.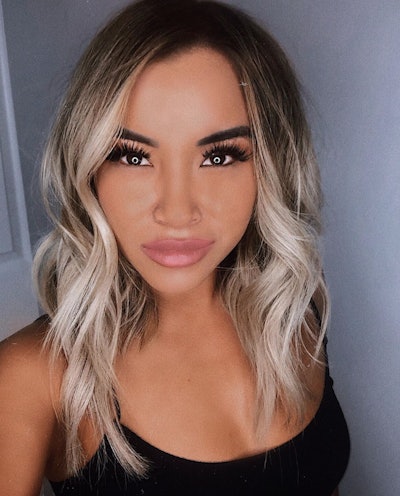 Tell us about yourself.
I always loved doing hair. When I was younger, I would color my mom's hair at home. My cousin also went to beauty school and it was so fascinating to watch her success as a hairdresser. She ended up moving out to New York right after beauty school and did New York Fashion Week and worked for celebrity hairstylist Sally Hershberger. I thought that was the coolest job ever and since then I had always wanted to pursue it. I would constantly do my own hair, and in my senior year of high school I toured the Aveda Institute and fell in love. Throughout my training I began to have a passion for color, and the theory and technique behind it really made sense to me. I come from a very creative background as well. Both my parents are in theater and even growing up then, I would watch the performers do their hair and makeup and all I wanted to do is help in any way!
What are your goals?
My goals as an artist is to continue to have an open mind and to take my knowledge and skills and be able to teach it to others through education. I will be opening up my first five-chair rental salon here in the Twin Cities, and my goal is to hustle hard and create a warm welcoming environment for my team and clients.
What accomplishments are you proud of?
Opening up my own salon at the age of 24! I attended beauty school when I was 18 years old and started working full time when I was 19. I had landed a job at a top hair salon here in Minneapolis and I got into their advanced training program. I started off doing training during the day and taking a few guests with an educator on the floor at night—six days a week, nine- to 10-hour days, and I was only making minimum wage at $9 an hour. It was exhausting. As the program was coming to an end, I was preparing myself to move on to the next segment, but I made mistakes along the way and unfortunately, I was let go of the program. I didn't have a plan B. I was so vulnerable and hopeless. But I got a job at a commission salon and I ended up working there for almost two-and-a-half years. I created a name for myself and got it out there. Next, I became an independent contractor and rented out of a salon for over two years. I branded myself as The Mane Artistry and used social media (with over 20,000 followers on Instagram following my work) as a platform to build my business. Now here I am today about to open my own salon. My biggest advice for those who are struggle or just graduating beauty school, is to never give up on something you are passionate about. Anything is possible if you put your mind and 110% into it.
What do you love most about being a colorist?
What I love most about being a colorist is the challenge and the ability to be able to be creative. No head of hair is the same. I see it as my canvas where I can create art. 
What's your favorite color trend/technique of the moment?
I love to foiliage and create a bold but blendable money piece around the face. I love a lot of depth and contrast when it comes to creating my signature look. My clients are able to get a lot of longevity from that technique.
Who or what inspires your color work?
Honestly, I let the hair speak to me. Everyone's hair color, texture and density are different, and the hair grows in different directions allowing me to be very customizable. Instagram and other hair artists in the industry always inspire me. I love following different pages for different inspo. I am a huge supporter for other artists and I just love to spread the love and support. That's what keeps me inspired. Beauty Launchpad was one of the first big pages on Instagram who noticed my work when I was still a smaller account and not super known. You have always been a huge inspiration to follow because not only do you support artists and their work on their Instagram page, but you have a monthly magazine as well featuring new artists! I was so honored when I was picked as one of the top 30 colorists under 30 of 2020. That was a big goal that I accomplished.
What makes you most proud to be part of this industry?
I am proud to be a part of such an amazing industry because everyone supports everyone no matter where you are in your career. I have felt more of a connection and support recently with this pandemic that is happening in the world. It's really made me appreciate my job and my industry even more. Though we are going through one of the most difficult times in our career at the moment, not being able to work, and do what we love to do. We have found other creative ways to stay inspired and supportive. Creating free online education and letting others know we are all in this together.