Our 8th annual 30 Under 30 spotlight highlights the next generation of colorists — all under age 30 — who are poised to take their careers to the next level. Hailing from coast to coast and different countries, these color experts comprise an eclectic 2020 crew. We learned about their lives and hue loves, who motivates and what inspires them, how they got started and where they hope to go. Sarah Vondracek (@beautymarkedbysarah) just turned 30 (so she barely made the cutoff!) and is a hairstylist at Bella Si Salon in St. Clair, Missouri.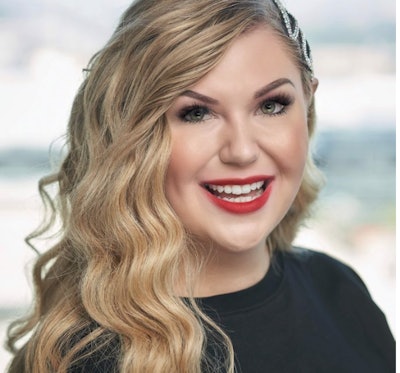 Tell us about yourself. 
From the age of seven, all I have wanted to be was a hairstylist! My cousin owned a salon and every Saturday I would go there with my grandma to get her hair done. Every week I looked forward to going into the salon with her because I just loved watching everyone do hair and interact with their guests. I saw at a young age the importance of our industry and how a beautiful cut and color can totally boost someone's self confidence and make them feel better about themselves and I knew I wanted to do that for people. Hair has always been my passion. 
What are your goals?
My goals are to just keep growing and evolving myself and my skills as a colorist and as a person. I hope to one day be doing hair for celebrities and on set for TV and film, so I've just been working really hard on Instagram showcasing my passion and abilities and working toward that happening to me one day! 
Any accomplishments so far that you're most proud of?
This honestly is a major accomplishment and career highlight for me to be included in this list of talented, passionate artists!
What do you love most about being a colorist?
I love most about being a colorist is getting to see a transformation and vision come to life on my client. I love seeing their reaction when they see their hair. It's so satisfying to me to see how much more confident my clients are after I have spent time with them and their hair! 
Who do you consider your mentor?
My biggest role model/mentor is Sexy Hair's Laura Chihaia, @lalasupdos, simply because she believes in me. We all need someone to motivate, support and look out for us. She's the one person I can always come to for honest, sound advice and I'm so thankful for our industry for bringing us together. 
What's your favorite color trend/technique of the moment?
My favorite color trend/technique of the moment is called twilighting. This technique is perfect for a client who is a brunette who wants dimension in her color with warm and bright golden tones. Think JLO's hair color at the super bowl! This trend combines balayage and babylights to get the perfect mix of highs and lows in your final result! This color is also very low maintenance on my clients as well which is an added bonus to them. 
Who or what inspires your color work?
So many things inspire my color work. First: social media. I use social media directly to help me stay on top of trends before and as they are happening so I can stay current and prepared for what I know my clients will start to ask for. I also play close attention to what celebrities are doing to their hair because they really influence what are clients are asking for as well. 
What makes you most proud to be part of this industry?
What makes me most proud of this industry is our community. Growing up, I never had a place where I fit in, really. As soon as I started doing hair I immersed myself in the industry, taking as many classes as I could and being active on social media. And honestly this industry has been my saving grace in more ways than one. Because of our industry I have purpose, passion, a reason to wake up every day inspired and loving what I do for a living. I'm proud that I belong to an industry that has so many creative, talented, selfless individuals who just want to help their peers and friends achieve, grow and do amazing things. Those who have helped me along my journey are the reason I continue to grow and will be the reason I help others grow in return. It's almost the circle of life in a way! Every hairdresser in our industry gets to be part of someone's growth and journey. I think that is so beautiful and it makes me so proud to be part of it!