Our 8th annual 30 Under 30 spotlight highlights the next generation of colorists — all under age 30 — who are poised to take their careers to the next level. Hailing from coast to coast and different countries, these color experts comprise an eclectic 2020 crew. We learned about their lives and hue loves, who motivates and what inspires them, how they got started and where they hope to go. Katy Samuels (@k.s.colors) is 26 years old and works at Tresimage Salon in Reno, Nevada.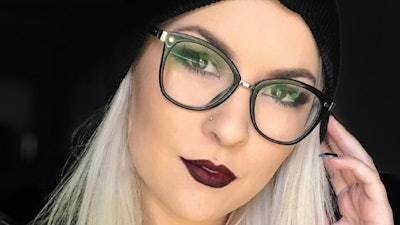 What inspired you to become a colorist?
Color inspired me to be a colorist! I have always been fascinated with color itself and the unlimited potential. Like, you can add colors together to make them disappear, that's crazy man.
What are your goals?
The only thing I really want to achieve in my career is to be a well rounded stylist. I love cutting, but the structure of it has always been a challenge for me because naturally I am a mess, so I hope to take more cutting classes in the near future! 
Any accomplishments so far that you're most proud of?
I'm a huge introvert and hate being the center of attention so I am most proud of the work I have done filming for my fave color company, Pulp Riot, teaching classes and working on stages with brands at hair shows!
What do you love most about being a colorist?
What I love most about being a colorist is how satisfying it is to paint hair in general (like covering someone's roots—yes, please!) and the joy it brings to my clients. Also the conversations had while doing someone's color for 2-plus hours are top-notch
Who would you consider to be your mentor/role model, and why?
David and Alexis Thurston. Their grace in every situation ever and kindness towards others is hugely inspiring to me. 
What are your favorite coloring tips?
Never underestimate the power of a structure equalizer spray! I love to prep my canvases before a semipermanent with it to ensure the structure of the canvas is perfect. Also- elevation. What elevation does for cutting, it does for coloring. 
What's your favorite color trend/technique of the moment?
DIP DYE! Especially on bobs, if you have an icy blonde and add a bold dip dye to it, it'll fiercen' up the look and it's such a power move, to be honest.
What makes you most proud to be part of this industry?
The sense of community in this industry makes me so proud, hairdressers have each other's backs and that's cool af.