Our 8th annual 30 Under 30 spotlight highlights the next generation of colorists — all under age 30 — who are poised to take their careers to the next level. Hailing from coast to coast and different countries, these color experts comprise an eclectic 2020 crew. We learned about their lives and hue loves, who motivates and what inspires them, how they got started and where they hope to go. Joseph Trace (@jtcolours)is a 27-year-old studio owner, master colorist and self-described hustler at JTcolours in Baltimore, Maryland.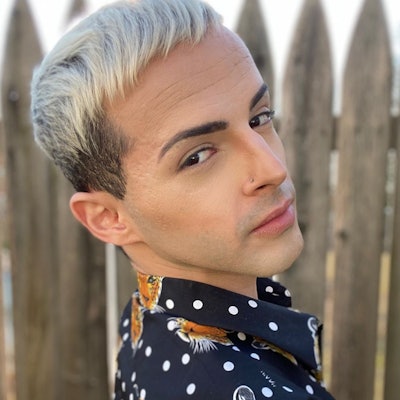 Tell us about yourself. 
I actually wanted to go to culinary school to become a chef, but realized that it just wasn't the right path for me. I knew I needed to find a career/trade that fit my personality, and that I'd enjoy doing every day. I always liked experimenting with color on my own hair, so I decided to go to cosmetology school and give it a try. I ended up loving it and never looked back. 
What are your goals?
I would like to inspire and educate other colorists by sharing my work and contributing to our industry. I will continue to use social media to showcase my work, and as a way to connect with other professionals. I've taught in a classroom setting with a small group of students, and I've also taught several online classes. Ultimately, I would love to teach on stage to a larger audience. 
What accomplishments are you proud of?
One of my proudest accomplishments was starting my own business at the ages of 23. I'm also proud to be an educator for Malibu C.
What do you love most about being a colorist?
Discovering new coloring techniques and creating custom colors are what I love about being a colorist. 
Who would you consider to be your mentor/role model, and why?
I consider Sarai Speer (@theplatniumgiraffe) a mentor and role model. She's a colorist I respect, and I admire her work. She is successful and dedicated to her career. She's just an all around amazing human, and she is GOALS!
What makes you most proud to be part of this industry?
I'm most proud of being of a part of an industry that has a positive impact on people. I love when my clients leave feeling confident, happy & beautiful.