Our 8th annual 30 Under 30 spotlight highlights the next generation of colorists — all under age 30 — who are poised to take their careers to the next level. Hailing from coast to coast and different countries, these color experts comprise an eclectic 2020 crew. We learned about their lives and hue loves, who motivates and what inspires them, how they got started and where they hope to go. Jessica Aguilar (@thenewenglandstylist) is 26 years old and a colorist at All Dolled Up in Southington, Connecticut.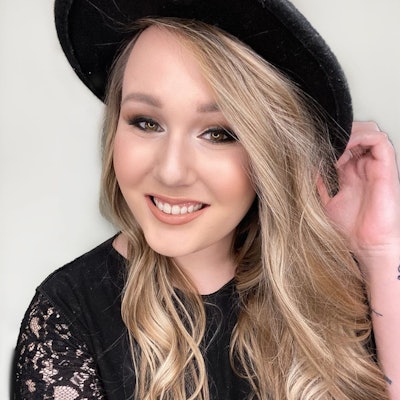 Tell us about yourself.
I originally only started hair school because I was doing bridal makeup and casually thought, "Hey I might as well do hair too." Initially I thought I would only do bridal styling after I graduated. Here we are, a few years later and I am absolutely obsessed with being a colorist. I tell everyone that going to work for me is like being in art class all day. I was completely naive to how creative and amazing this field really is before I went to hair school. This career completely satisfies the creative itch I have had all my life. 
What are your goals? 
I would love to teach a hair photography class one day since taking photos of my work is one of my favorite parts of the appointment! I also want to consistently improve my guest experience and stay humble throughout this career. I never stop making lists of things I can work on. Always take classes and try to get the most out of them. 
Any accomplishments so far that you're most proud of?
The accomplishment I am most proud of is probably the relationships I've built with my clients. It makes me happy when they're happy. We just click and it feels like I'm hanging out with my friends for a few hours while I get to play with their hair. Also, any time my work gets featured on a hair page I do a little happy dance in my head. This career can be so rewarding.
What do you love most about being a colorist?
The thing I love most about being a colorist is the formulation process. We are all like mad scientists back at the color bar. An ounce of this, 10 grams of that, time to blow dry and let's see what we got! Ha ha, every colorist out there can relate. Formulating can be the most satisfying, yet suspenseful part of the job but it's where we have the most fun in my opinion!
Who would you consider to be your mentor/role model, and why?
I can't just choose one so I have to say Britt Seva and Gina Bianca. They both get me pumped about this industry! I also admire how they rule out any excuses I may have for why I can't be better. I love people like that—people who are just honest and don't have time for self pity and excuses, but offer solutions and empower you to grow. 
What's your favorite color trend/technique of the moment?
My favorite trend of the moment is lived-in, dimensional hair. I'm so glad the days are gone when everyone has solid blonde ends with little to no depth. I love how natural it looks and my clients love the low maintenance!
Who or what inspires your color work?
@coloredbycaitlin inspires my color work the most. She is the dimensional foilayage queen! I watched her online class and it was game-changing.
What makes you most proud to be part of this industry?
What makes me most proud of being a part of this industry is the support the community has for each other. I feel like so many of us genuinely cheer one another on! When my fellow artists get a big feature or are rewarded for their hard work, I try to clap so loud for them and they do the same for me!