Our 8th annual 30 Under 30 spotlight highlights the next generation of colorists — all under age 30 — who are poised to take their careers to the next level. Hailing from coast to coast and different countries, these color experts comprise an eclectic 2020 crew. We learned about their lives and hue loves, who motivates and what inspires them, how they got started and where they hope to go. Eunice Kim (@eunicekimhair) is only 24 years old and a stylist at the Bescene Studios in Rockville, Maryland.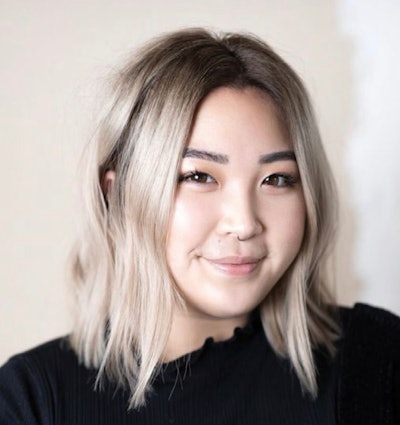 Tell us about yourself. 
Growing up, I was the middle child of three girls, and I was the one always watching YouTube beauty videos. My mom knew I had to do something artistic and sent me to art classes all throughout my childhood. But because of my circumstances at the time, I ended up going to college for nursing and dropped out. I was working part-time at a sports bar when someone told me she was going to hair school! That same night, I went home, got my dad's permission and signed up. Long story short, what inspired me to become a colorist was just my passion for art and I ended up running back to it in the end. While in hair school, I found the hair community on Instagram and just fell in love with balayages. 
What are your goals? 
I never think long-term, which is a problem! I like the idea of educating, or maybe even owning a small boutique salon. As long as I'm having fun in the future, I'm pretty much down for anything.
Any accomplishments so far that you're most proud of?
THIS!!!!! And I'm proud of how well I was able to build a steady, loyal clientele in only 2.5 years of being on the floor.
What do you love most about being a colorist?
If you know anything about me, I'm a wild, very open book. That being said, with the time coloring takes, I love being able to chat with my clients for hours and turning them into friends as they're able to open up to me about anything and everything.
Who would you consider to be your mentor/role model, and why?
My old boss, Erin (@erin.rene_fifthandmae) and my current boss, Linh (@bescene)! They both taught me everything I know and didn't hold back any of the knowledge (which in my opinion, is so, so important). And they both continue to support me nonstop. 
What's your favorite color trend/technique of the moment?
I love doing my face-framing foils. My clients come in between their balayage/foilyage appointments for this appointment because it keeps maintenance cost down but makes their color look brand-new. Also, it gives you a bomb-ass money piece. 
Who or what inspires your color work?
That lived in, cool, L.A.-girl vibe is always my inspo. As for who, that's always changing but currently @danielmbeauty. 
What makes you most proud to be part of this industry?
The community on Instagram. I love being able to share my work and also admire others. Also, I'm so proud to be part of this beauty industry because of the freedom it gives to be 100% me.