Our 8th annual 30 Under 30 spotlight highlights the next generation of colorists — all under age 30 — who are poised to take their careers to the next level. Hailing from coast to coast and different countries, these color experts comprise an eclectic 2020 crew. We learned about their lives and hue loves, who motivates and what inspires them, how they got started and where they hope to go. Ashley McGinn (@ashley.m.stylist) is a 25-year-old blonding specialist at Blondish Beauty Bar in Fort Collins, Colorado.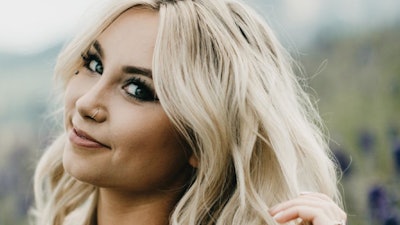 Tell us about yourself.
I was born in Layton, Utah, but I moved around a lot as a kid. My single mom is who moved us around to seek more opportunities. I didn't have a very positive relationship with my dad who still lives in Utah. He is half Vietnamese and is very difficult to please and impress (which I think molded me into a perfectionist).
The longest stretch of my adolescence was spent in a small town called Gunnison in southwest Colorado. I never felt like I truly fit in there since the town was full of families who were born and raised there for generations, but moving a lot taught me how to immerse myself quickly. I made friends in different random groups but I never had my own "clique" which made me feel lonely. I was a girly girl living with all brothers and since my mom was always so busy, I had no one to teach me anything about hair and makeup. I spent hours in my room teaching myself how to braid, curl and style my hair. I definitely went through some atrocious makeup phases but I loved doing all of it! 
I got a job as a receptionist for our local high-end salon during my senior year. I learned so much and loved the hairstylist lifestyle. These women picked the days and hours they wanted to work, they got to have a healthy work/life balance, and they were passionate about the work they were doing. After seeing all of this first-hand, I decided I wanted to get my cosmetology license to bring in money while I worked on getting a bachelor's degree to have a fallback option. 
I always did well in school and my dad wanted me to go to college, so I just assumed that's what I should do. During my first year at WSCU I met my husband, but realized I was very miserable paying for a degree I wasn't even interested in. I felt like I was wasting my time and my money. It was hard, but I eventually made the decision to quit school and focus on doing hair full-time. My dad was furious and I will never forget the things he said to me, like "How do you expect to support a family on that kind of income? You're too smart to just become a hairdresser." These words lit a fire in me and it's what fueled me to keep going when things got tough. I was so fearful of proving him right and letting myself down that I wasn't going to allow myself to quit—even though there were days I felt hopeless since I wasn't bringing in much money.
Now my husband and I have an 18-month-old and we just bought a brand-new home. I work in a small suite above a wine bar with my best friend and I have an established clientele. My dad will never admit he was wrong, but our relationship has gotten a million times better (it's amazing how much a grandchild will soften your pride). I achieved all of the goals I set for myself when I was 18 and now I have new dreams I hope to accomplish by the time I am 30."
What are your goals?
My five-year goal I am currently working toward is creating my own salon space and brand that feels luxurious as well as cozy and welcoming. I am often getting comments from my clients that they don't like going into large, loud salons that make them feel like they can't relax. They like that I work in a small suite that feels "homey," so I'd like to create a space that has a similar atmosphere, but I'd like to add my own design elements that create a more luxurious feel. I would also like to move the salon's location closer to my new home that is in an up-and-coming area. 
Any accomplishments so far that you're most proud of?
Five years ago and I was a completely different person in a totally different place in life. I was still struggling to build a clientele. There were days I wouldn't have anything on my books besides maybe one haircut. I would walk around town with business cards and dog treats because it was easier for me to approach dogs rather than strangers (the struggle of being an introvert). I worked commission instead of booth rent because there was no way I could afford renting a chair at that point. I was so focused on the numbers and making money at that point, that I felt so discouraged. I felt like a failure and that I chose the wrong career. My anxiety was through the roof, I obsessed about work, I became really overweight. I was at a very low point in my life. That's when I decided to turn things around. I started exercising to deal with my anxiety. I stopped focusing on the money and I redirected my energy to the original reason I started doing hair—to make people happy and feel beautiful! I started taking as many classes as I could to better myself. I was never going to be the fastest but I wanted to be talented enough that I could give people the hair they've always wanted. I took before and after photos for Instagram, I gained close connections, my girls sent me awesome referrals. All of the sudden I was booking out a couple of weeks. I could afford booth rent. My anxiety lessened. My hard work in the gym started to pay off and my energy levels were up. I had a whole new outlook on being a stylist.
Flash-forward to today—my anxiety about work is at an all-time low, I can afford booth rent and expenses working three days a week, which gives me so much more time with my son. I'm regularly booked out 12-plus weeks. Sometimes I forget where I started and need to remind myself that it wasn't being a marketing wizard that got me here. It was the passion of what I do and the strive to always be better. It's easy to give up when things feel tough, but I stuck with it and I am thankful every day that I did.
Who would you consider to be your mentor/role model, and why?
Believe it or not, I was always intimidated by foiling and classic highlighting. My foils would slip and cause bleed marks, plus it was hard for me to come up with placement ideas. I was always more comfortable with hand painting so I usually stuck with that. Then I discovered Tressa Yanchuk (@tressesbytress) and became obsessed with her blondes. I joined her education page and learned so much about foiling and placement. It completely changed my blonding game and now I do more foiling than anything else. 
Please share your top or favorite hair color, prep, or color care tip.
I absolutely LOVE Blacklight Lightener from Oligo Professional. I go through truckloads of this stuff with the number of blondes that I do and I am always happy with the lightener's performance. It doesn't swell so I never get bleeding foils. It lifts the hair beautifully without excess brass. This lightener paired with Brazilian Bond Builder, allows me to get beautiful white blondes without the breakage. 
What's your favorite color trend/technique of the moment? Why?
I am OBSESSED with high-contrast / ribboning techniques. I love a bold look that is still flattering. For example, a really dark brunette can still rock super bright blonde without getting washed out because there's enough dark melting through her root and mid-shaft that it still blends and has a beautiful "pop."
What do you love most about being a colorist?
I love the endless possibilities a head of hair can have when it comes to color. Since everyone's hair is so unique, depending on the placement and tone, you can completely change a person's vibe. I love having the power to bring out someone's personality / style to make them feel beautiful and confident. It is such a special experience to watch someone's face light up when they look in the mirror and I feel honored I get to see it happen multiple times in a day. 
What makes you most proud to be part of this industry?
I am so proud to be a part of this industry because anyone can thrive and make something of themselves just by being true to who they are (which creates ultimate happiness in my opinion). Various people join the beauty industry with completely different backgrounds, personalities, dreams and skill sets, but they all are united in their passion for their work. We get to choose what our art looks like and people who admire it flock to us. You create your own community of people who support you and form lifelong connections. No matter what your style is, there are people out there who will appreciate you. We get to do what we love and express ourselves every day. It is so much more than just a "job" we do for money; it becomes an identity. There are very few industries that have that same level of depth and passion across the board.