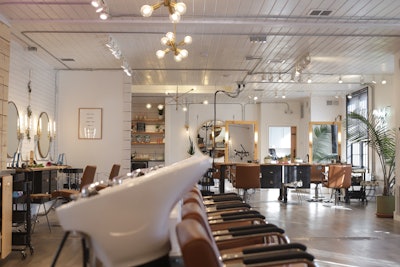 With a focus on the client experience, Salt shoots for the highest level of service. 
Inside Story 
As Jamie Sea surpassed the decade mark in her career, she felt an undeniable pull toward the artistry, yes, but more so to the mind-set of those who entrusted their hair's care to her. Could she, in some small part, grant clients stress-free salon visits where not only their manes' needs are met, but also their mental ones, too? "I knew I wanted to open my own business when I realized how protective I was over the client experience," she relays. In 2017, Sea opened Salt, a seven-chair salon named after her beatific childhood memories of visiting Dunes Park Beach in Rhode Island. "As a young child, I would find peace in the feeling of being by the water, the scent of sunscreen, and the salt on my skin and in my hair—the ocean became my safe space," she remembers.
That idea of a "safe space" is what Salt's mission is rooted in—it's a place Sea says encapsulates stillness and joy. "Salt gives artists the ability to thrive in a relaxed one-on-one client experience facility, and the clients are able to escape the rush of life," she explains. at one-on-one experience is key to the mission. " is means we don't double-book," she continues. "When clients book at Salt, they'll get one artist from start to finish. We believe in the art of communication and care. My overarching goal for Salt
as a custom color facility is to be a safe space for artists to express their color creativity and find their community, and for clients to put their trust into our team and leave feeling more confident and at ease."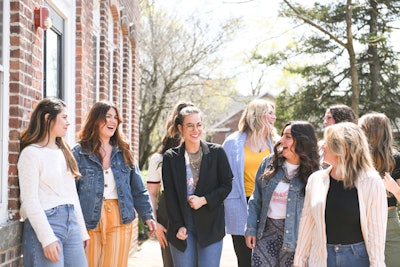 Living in an area of Connecticut rife with strip malls, Sea sought a location that could act as an escape from—not a reminder of—what typifies a busy life: errand running, kid chasing and clock watching. She found it in Cheshire, where the historic e Watch Factory building, founded in 1883, houses service and retail businesses, a restaurant and—now—Salt. "The Watch Factory is full of history, factory windows and bright natural light," she thrills of the area's beloved brick building. Sea enlisted her husband to handcraft everything from workstations and flooring to concrete countertops. Inspired by the ocean and her love of boho-chic retail store Anthropologie, Sea outfitted the space with rich caramel leather chairs, warm and white woods, brass finishes, black accents (like a chevron-tiled base for sleek shampoo basins to perch upon), and several sputnik pendants to cast a soothing glow. roughout, lush greenery lends the salon pops of verdant color. To Sea, who keeps busy with ventures outside of Salt—like Salt Society, the education arm of her business—the stillness she wishes for her clients is 100-percent achievable in this space. "It's a private area that clients can 'sneak away' to and leave the hustle of life behind for a few hours," she says.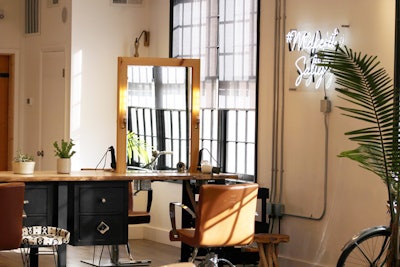 What's Unique 
Sip, sip, hooray! Salt hosts Sip + Shop Saturdays, pop-up events with local businesses where clients, staff and others can sip bubbly while discovering brands that align with Salt. "As a small business owner myself, I wanted to create a community of support with other small businesses in Connecticut," shares Jamie Sea.
Society learning: Located across the courtyard from Salt, Sea's education arm, Salt Society, thrives with a large, open room that can house up to 40 students for look-and-learn-style classes. "We also have a full-time marketing team, graphic designers, administrative manager, director of education and 10 educators (the Travel Society) who are stationed all over the country to teach salon professionals Salt Society curriculums," says Sea.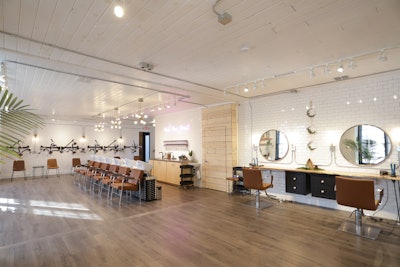 Retail hair lines: Neuma, IGK, Verb
Color line: Redken
Refreshments: Mimosas, coffee, snacks, lunch menu
Typical clients: 100-percent female ranging in age from 25 to 60
Popular service: Balayage. "Our guests love the sun- kissed results and low-maintenance upkeep!" Sea thrills.
[Images: Courtesy of Salt]