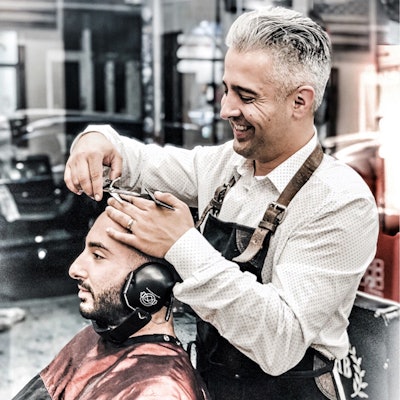 The year was 2008: On a stroll through the New York streets of SoHo, Alena and Arthur Iskhakov soaked in the vibrancy of the neighborhood. "It was very artsy, very free-spirited, very fashion," reminisces Arthur. The duo wanted to harness the energy they felt in those streets into a successful barbershop, but the area's prices for men's haircuts left them wary. "SoHo back then—and even more so now—was an expensive neighborhood with haircuts priced upwards of $60 for men. We wanted to change that," Arthur explains. Huddled together at an outdoor café in Little Italy, the two conspired to change the neighborhood's landscape for men's grooming. "We were young kids trying to do something different and creative," says Arthur.
Their answer was Barber's Blueprint, a 600-square-foot, six-chair barbershop with roots in what Arthur calls the "golden era of luxury men's barbershops" (read: vintage leather barber chairs, warm wood floors, exposed brick walls, shelves brimming with books, smooth jazz tunes playing and barbers who respect their craft). No matter how luxurious the services, the Iskhakovs kept price points affordable not only in 2008, but also today, with a men's haircut clocking in at a cool $32. What the duo fell in love with about SoHo lives on in Barber's Blueprint; the barbershop is what Arthur calls a "quintessential New York" experience that even out-of-towners would enjoy—especially the Blueprint Signature Shave service ($50), which includes a straight-razor shave, two hot towels infused with organic peppermint oil, a clay facial, and head and face massage. If clients get a hankering, they can throw back a shot of whisky post-shave and relax outside with a cigar.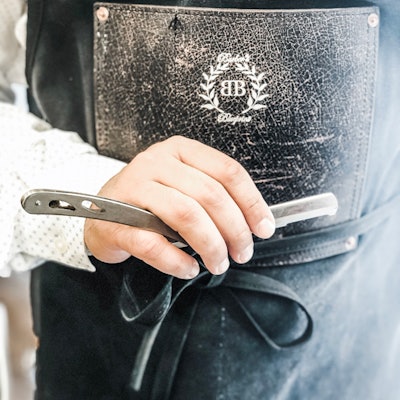 But perhaps most revelatory about the Barber's Blueprint experience can be tied to the shop's partnership with KultureCity, a nonprofit that helps families and communities better understand and facilitate people with autism. Having witnessed a mother calming her autistic child at an amusement park, Alena felt her heart break. Wanting to become part of the change, she reached out to KultureCity founder Julian Maha that very next day. "Our companies were a perfect match," says Alena, and now Barber's Blueprint offers Sensory Inclusive Haircuts where children on the spectrum can get their hair cut in an environment that makes them feel safe. Each service features a Sensory Inclusive Bag developed with KultureCity that includes noise-canceling headphones, fidget toys, weighted lap pads for comfort, a "feeling" card for clients with speech impairments that helps facilitate communication, as well as other items chosen to relieve sensory-sensitive kids. "I think at the end of the day, what it comes down to before being a hairstylist or a business owner or anything else: We are parents," Alena says. "And, as parents, we all have the same hopes and dreams for our kids, regardless of whether or not they have a disability—and that dream is to be loved, to be accepted, to be included and for their dreams to come true. We all want the same things for our children." And Barber's Blueprint is doing its part to fulfill those dreams.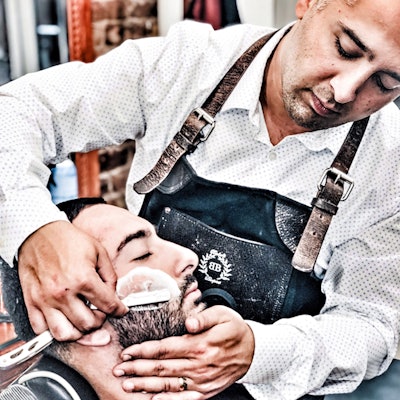 Shop Extras
Lines carried: Barber's Blueprint will be releasing and stocking its own sustainable, eco-friendly grooming line exclusively made with organic CBD.
Tailored fit: As part of the online booking system, when parents choose a Sensory Inclusive Haircut service, they can include whether the child has issues with blowdryers, music, clippers and so on. "The whole experience is tailored toward the individual child," Arthur relays.
Veterans Day, Every Day: "We support our local vets and offer a 50-percent discount to veterans on all services— every day," Arthur says. "We also hire any vets who want to join our professional team—even if they don't have experience—and train them personally to set them up for the work field."
Welcome Distraction: Noticing that kids enjoy iPad entertainment during services, the shop plans to implement the tablets this year. "We want to make our haircuts a fun and comfortable experience for children and their families," says Arthur.
[Images: Courtesy of Barber's Blueprint]
This story first appeared in the Winter issue of MAN magazine. To receive the magazine, click here to subscribe.