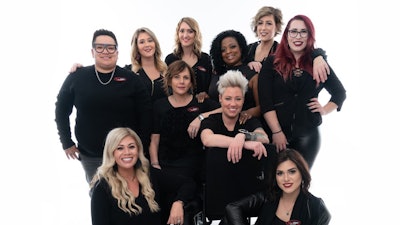 Sport Clips Haircuts announced the newest additions to its Artistic Team and members of its Aspiring Team. Joining the Artistic Team of top educators who represent Sport Clips nationally at beauty industry-related events will be Tammy Barger of Spring Hill, Tennessee, and Dorothy-Anne Lacy of Gilbert, Arizona. The Artistic Team was created in 2016 and launched in 2017 to travel throughout the year to beauty schools and shows such as the International Salon & Spa Expo, Paul Mitchell Caper, IBS New York, America's Beauty Show, Premiere Orlando, CEA Annual Convention, Beauty Classic, Premiere Birmingham, and many other student shows to represent Sport Clips on stage and in classrooms to educate attendees. 
Returning team members include:
Brittany Fitzgerald - Savannah, Texas
Pauline Pryor - Indianapolis, Indiana
Stefanie Irvin - Skiatook, Oklahoma
Jadrien Westbrook - Greenbrier, Arkansas
Dorian Curtis-Likens - Spring Hill, Tennessee
Maria Jones - Oakdale, Pennsylvania
Stacia Kelly - Georgetown, Texas
Frankie Perez - San Diego, California
Aspiring Team stylists travel to select trainings and events throughout the year. They include:
Katie Kenkel - Springfield, Missouri
Amelia Fullen - Asheville, North Carolina
Alaina Harris - Braselton, Georgia
Gina Carlisle - Meridian, Idaho
Ramona Gomez - Concord, California
To find out more about career opportunities with Sport Clips, the company Glassdoor calls "one of the best places to work," visit SportClipsJobs.com.