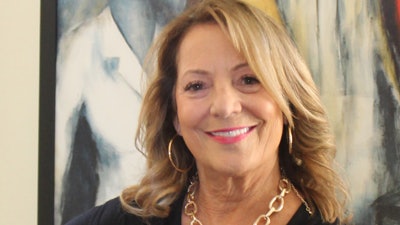 If you've worked in the beauty industry over the past 47 years, chances are you've heard of Joni Rae Russell, the marketing mastermind behind Joni Rae and Associates. From ABBA to ZOOM! and hundreds of companies in between, Russell's client list reads like a Who's Who of the beauty industry. 
Described by colleagues as a fearless, fiercely talented entrepreneur, she has worked to help brand and rebrand thousands of products to become successful in the beauty and cosmetic industry and beyond. Now, after 47 years, Russell is announcing her retirement at the start of 2020.
As a third-generation entrepreneur in the beauty industry, Russell kicked off her career at her family's company, VJ Curcio Beauty Supply. Young and hungry to learn, she worked from the bottom so she could later ascend to the heights of the industry. As a sales representative, she coined the term "Distributor Sales Consultant," ( DSC) which is still in use today, and tackled a steady stream of responsibilities, inclduing penning a 24-page newsletter (The Curcio Chronicle), selling ads, serving as educational director and event planning. 
That early and varied experience proved indispensable as she later was recruited for executive positions by big-name brands like Revlon, Redken and Dep Corporation, and steadily climbed their ranks in marketing and product development roles.
But she finally found her calling when she created Joni Rae and Associates in 1991—a true one-stop shop for shaping a winning brand from the bottom up, executing every part of the marketing mix. 
Over the past 28 years, Joni Rae and Associates has worked with more than 200 clients and branded more than 800 SKUs, working behind the scenes to discern and deliver on every possible detail that makes a brand succeed. Russell's company shone as not just a marketing firm, but a fully integrated brand architecture firm, handling everything from marketing positioning, naming, slogans and package design to branding, media buying and publicity. "In the early days, clients would hire me to write their business and marketing plans—they'd love it but wouldn't know how to go about executing those plans," Russell recalls. "So I started developing divisions to help the clients at every step." With too many success stories to count, her unique blend of experience at every level of the industry created a seamless experience for her clients, who could skip the endless firms involved with developmental details and score all of that expertise in one place: Joni Rae and Associates. In short, Russell was truly the beauty behind the brand. 
"You'd be surprised to know how many successful beauty brands have Joni Rae to thank for their success," notes Gregg McConnell, business development manager at Evoke Agency. "She's worked tirelessly behind the scenes and has a successful track record other marketers would envy. Joni's unique talent blends creativity with a business sensibility that ensures brand success on many levels."
However, insider intel is only part of the inimitable algorithm behind Russell's incredible achievements; she also shares an unsurpassed care for her clients and passion for the industry she was born into. "I just love my industry and my business," she enthuses. "I looked forward to getting up every day and advancing the brands I worked on. This industry has provided me with lifelong friends."
Of course, considering Russell's unparalleled success, it's no surprise that the love goes both ways. Ask Robert Hayman, CEO of Discus Dental, who tapped Russell to mastermind a brand she named ZOOM!, which shot to $100 million in sales in mere months. "I have rarely met anyone with the raw talent possessed by Joni Rae," Hayman marvels. "Her passion and ownership over this project was remarkable and continued on when the assignment was finished. Her creativity, common sense and enthusiasm were infectious to the entire team. It is something one doesn't learn, but rather is part of one's DNA. This is what Joni Rae has in her soul, her very being."