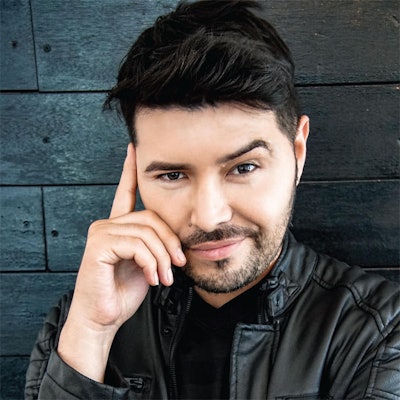 The lure of the perfect brow set arch expert Angel Cisneros on a bold new path. 
When Angel Cisneros took on a receptionist job at a local threading salon, he had no idea where that would take him. Now, he sculpts perfect brows from his own salon, Sublime Eyes, in Hollywood, California; he has his own line of Angel Eyes Brows Stain; and counts celebrities, including Mindy Kaling, Black Chyna and Janice Dickinson, among his illustrious clientele. Read on to find out more about Cisneros' rise to eyebrow prominence.
How did you get started as a brow artist?
I came to California from Mexico to study art and commercial photography at Cal State Long Beach. While in school, I got a job as a receptionist in a threading salon with mostly Indian technicians. During our downtime, they taught me threading techniques. Also, because it was a predominantly Indian salon, we'd get a lot of women requesting henna for weddings and special occasions. The women in the salon knew I was studying art, so they would ask me to do the henna designs—and I became really good at it. That experience working with threading and henna art, combined with my artistic studies that helped train my eye, is what awakened my interest in brows.
RELATED: 5 Ways for Eyelash Techs to Prevent Eyestrain
What was your motivation for creating Angel Eyes Brow Stain?
I've always been creative and rebellious by nature. Threading is a unique technique—most technicians use wax to sculpt the brow—and I wanted to find something else that was unique to give a full brow look. I thought about using henna like we were doing in the salon. I did some research and found that this was a technique being done in Brazil. It took a lot of time, effort and networking, but I was finally able to get my hands on some Brazilian product. From there, I went on to create my own product. The customized stain technique is used to enhance your own brows. It comes in four colors, and each application lasts about two to three weeks.
What sets you apart from other artists in the field?
I believe my perspective as an artist and a beautician is what sets me apart. Human anatomy is the key to finding the perfect natural brow shape. After that, it's feeling my client's vibe. We also teach our clients, which I think is rare. Many clients come in for their brow shape, and then we teach them the perfect color and stain application so they can do it at home.
How do you handle a difficult client?
You have to be patient. Listen to the client and really hear what he or she wants. And always do the best that you can to give them what they want.
Where do you find your artistic inspiration?
I find it anywhere and everywhere. On my last trip to New York, I got so much inspiration from staring at the beautiful windows of Saks Fifth Avenue. It was during Christmastime, and the mannequins in the window were styled super retro. Their brows reminded me of Marilyn Monroe—brows with an assertive beauty and boldness. I thought it was very sexy.
RELATED: 6 of the Hottest Lash and Brow Trends for 2019
What's your success secret?
Hard work and creating personal relationships with my clients. It's also good to be aware of the new trends as well as keep with the classics. Hollywood is far from a place where people like to blend into the crowd with a natural look; it's about standing out! So, good symmetry and full brows mark the red carpet with a glow.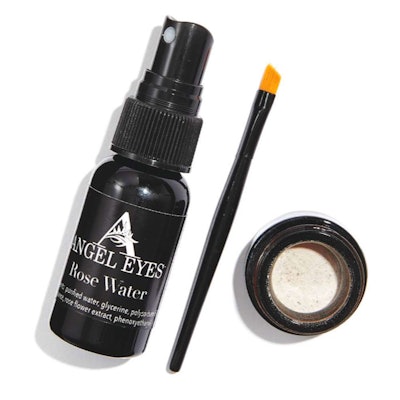 Best Advice: Be prepared, have a marketing strategy and put effort and time into your dream.
Go-To Brow Tools: My thread and stain, of course!
Most Popular Service: Our Diva Combo, which is a combination of threading and staining the eyebrows.
Favorite Brow Style: A bold and sexy brow.
On the Outs: I'm over boxy brows. They make the features look too harsh.
This story first appeared in the March/April issue of Eyelash magazine. To receive the magazine, click here to subscribe.
[Images: Courtesy of Angel Cisneros; Armando Sanchez]