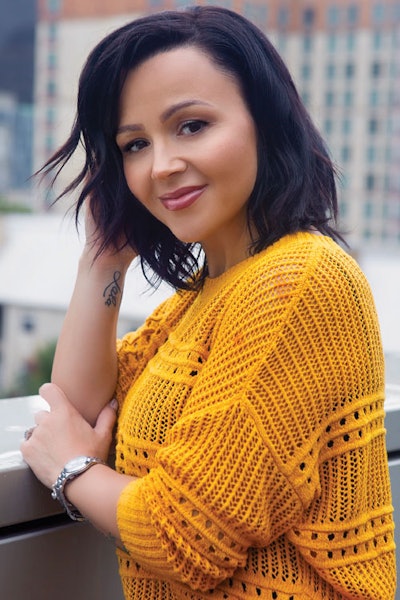 Laura Chihaia, aka @lalasupdos, shares how she conquered innumerable challenges to get where she is today— which includes a 425k-plus (and growing!) Instagram following.
I'm originally from Romania, but I ventured to the United States in 2006 with a small suitcase, a one-and-a-half-year-old daughter and $300 in my pocket. I had attained my professional beauty license in Romania before I came to the States as a means to secure a job; I didn't realize that my Romanian pro- beauty license wouldn't be recognized in this country, so I had to enroll in beauty school once again in California.
While working toward a pro-beauty license in America, I was also working full-time as a property manager. I couldn't quit my job as it was paying my bills, so I had to attend beauty classes in the afternoon. Working in an office from 8 a.m. to 4 p.m. (with my daughter by my side), then attending school (with my daughter once again in tow) from 4 p.m. to 11:30 p.m. each day was difficult. The only "break" from the grind was on Sundays, when I would do hair for the folks living in a local senior care house—but it was still a job. For nine years I worked this way, with no days off, living from paycheck to paycheck, shopping at 99 Cents Only Stores, and raising my daughter in the places I worked. Those were tough times.
RELATED: Educator Tracey Hughes Sets New Standards for Onstage Excellence
In 2009, I had graduated from Elite Academy and rented a part-time chair in a salon, where I specialized in cut and color. However, since I wasn't in the salon full-time, I wasn't able to build my clientele, and the career path I had sought for so long felt like it was falling apart. Quitting my other jobs wasn't an option because they paid my bills, so I continued to work full-time as a manager and part-time as a stylist. Still, most of the time the money wasn't enough to put decent food on the table.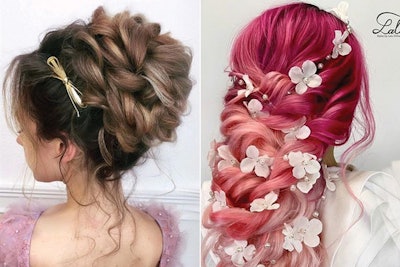 In August 2014, a client asked if I would do her hair for a wedding. I tried to talk her out of it, since I was a cut and color specialist and knew nothing about upstyling. Still she insisted, requesting a simple curly updo. We did a trial and she loved it! I was so eager to work with her on her wedding day. Yet things didn't go as planned: Back then I wasn't familiar with product layering and its possible effects, and the bride's hair turned powdery white once I began to brush it. I had to put the bride's head in the hotel room bathtub and wash her hair, in the process ruining her makeup and making her nearly two hours late for her wedding. It was a complete disaster.
That same day, I went home and canceled all my client appointments for the next two weeks; I seriously thought of quitting the industry. I wasn't making a lot of money and, after that failure, I questioned my abilities.
RELATED: Ones to Watch - The 20 Best New Hairstylists of 2019
Luckily for me, quitting has never truly been an option: One week into my two-week "break," I determined to practice and get better. I bought a mannequin head and watched YouTube tutorials, trying to recreate simple styles—that's how I learned how to do my first Dutch, French and fishtail braids. Soon after, I began to create my own unique styles. In October of the same year—just two months after my epic wedding day failure—I started an Instagram account and posted pictures of the looks I was creating on my mannequin head. I wanted to use social media as a means to attract clientele.
In December, I received my first request to teach a bridal class from a salon owner; you can imagine my shock when I got that email! After all, I was neither a bridal stylist nor an educator, and English is my second language. I expected approximately 10 attendees for my class, but when I arrived at the salon, there were 47 people. Soon after I posted about that workshop on my Instagram page, I received several more requests from salons all across the country to travel and teach upstyling.
So my success in the bridal industry began as a failure— and the desire to move beyond it. Four years later, I'm counting my blessings. I now make a living from doing hair and work only on weekends, servicing bridal parties, teaching upstyling classes, performing at hair shows, representing brands, getting my work published, having my calendar booked months in advance, and, most recently, joining the Cosmoprof artistic team.
It wasn't an easy road: It involved a lot of sacrifices, compromises, hard work, and perseverance as well as the decision to always keep moving forward. Oftentimes I questioned myself and my decisions, feeling terrible for not giving my daughter the childhood I felt she deserved. Interestingly, she doesn't remember much of that part of her life story—what she does recollect is that her mom worked hard to get where she is today, and when we go somewhere she introduces herself as "Lala's Updos' daughter"... that alone is worth all of my hardship.
I hope my story reveals that our success and growth is based not on how many excuses we have, but on how many solutions we can find.
—as told to Alyson Osterman-Kerr