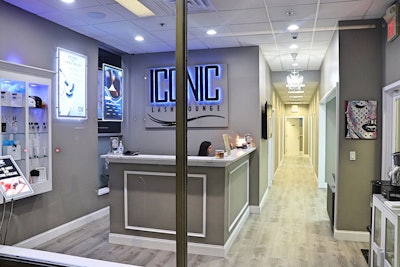 From a young age, Sandra Guarriello had a passion for two things: being creative and making others feel good. The only problem? She wasn't sure how to combine the two into a career— until she took a leap of faith, leaving behind her criminal justice studies and pursuing esthetics professionally. "For the first time, my two worlds of creating and helping others collided," Guarriello says. After graduating from beauty school, she became certified in semipermanent lash extensions. "I instantly fell in love with the art," she says. "To me, there was nothing better than creating personalized styles to meet my clients' wants and needs."
While working in spas establishing her trade and building a clientele, Guarriello and her husband, Nicholas, had dreams of creating something bigger. "We wanted to start our own business, to have something that was ours," she explains. Together, the pair joined forces—Sandra bringing her artistry and lash knowledge and Nicholas using his marketing background—to open Iconic Lash Lounge last year, in Yorktown Heights, New York.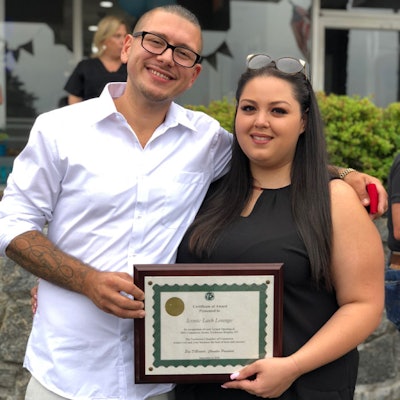 The modern, upscale and tranquil space marks a departure from many of the more salonlike lash studios in the area. With large windows allowing for natural light, flowers and crystals adorning the counters, and a wall-mounted LED fireplace, the space is feminine and inviting. But beyond the decor, Guarriello believes that it's the small touches that make all the difference. "It's the little things—like our basket of after lash-nap essentials, complimentary aromatherapy with each service and the assortment of snacks and drinks—that our clients love most," she says.
The service menu runs the gamut from the Classic Knockout set to the Showstopper (named by the clientele, it's a hybrid of Classic and Volume lashes) to the Bombshell, which provides the ultimate in Volume lashes. Iconic also offers packages, like the Iconic, which includes a hydrating under eye collagen treatment and lip mask that are applied during the lash service. The lash lounge changes its packages quarterly to keep things interesting, offering other services that can be paired with lashes, like hydrating hand and foot masks.
RELATED: How to Effectively Boost Business by Selling Aftercare Products
With barely a year under its belt, Iconic Lash Lounge is growing by leaps and bounds, a credit to their customer service and engagement with the local community. "We get a lot of feedback and reviews from our clients," says Guarriello, and Iconic uses that response to improve and adjust. The best compliment, though, is a referral. "There is something so special and heartwarming about someone seeing the value and effort in our work, and thinking that a friend or loved one would value it, too," says Guarriello. "Our business has boomed through word of mouth, and we can't put into words how much that means to us."
What We Love: Iconic Lash Lounge supports Wands for Wildlife, a nonprot organization that provides care for injured and orphaned wildlife in western North Carolina. The lash lounge donates old mascara wands to the organization to be used for removing fly eggs and larva from the fur of wild animals. "It's a match made in lash heaven!" exclaims Guarriello.
RELATED: How Lash Lifting and Tinting Help Your Clients and Boost Your Bottom Line
Retail Details: "We strive to educate our clients not only on the process of lash application, but also on proper aftercare to keep eyes and lashes healthy," says Guarriello. Retail items include foaming cleansers, reusable mascara wands, cleansing brushes, sleep masks and more.
Most Popular Services: Knockout. "For those who want that 'maybe she's born with it' look, this Classic lash service provides clients with an in-depth consultation and customized application.
This story first appeared in the January/February issue of Eyelash magazine. To receive the magazine, click here to subscribe.
[Images: Courtesy of Iconic Lash Lounge]