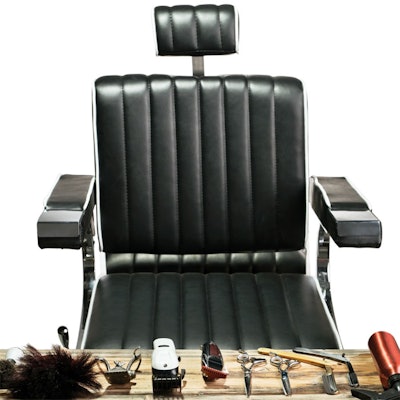 There used to be a time when sharing your knowledge was unheard of and praising the talent of tomorrow was taboo. Thank god those days are over. Thanks in large part to social media, young barbers are being recognized for their prowess behind the clipper earlier in their careers than ever before. And also because of Instagram, these up-and-comers are gaining attention and even learning directly from some of the industry's best barbers. Here, six top barbers share who they think will be tomorrow's next big barbering sensation. Time to start following!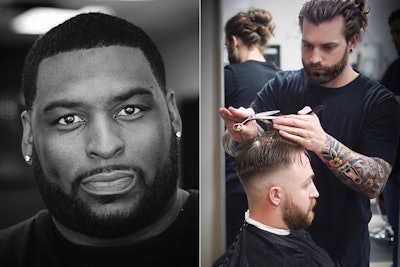 The Expert: John Mosley
The Chops: I come from a beauty industry family—my mother has been a hairstylist for over 40 years and both of my sisters are in the industry as well. I have been a barber for 15-plus years and have helped develop curriculums, products and barbering programs. My work has been featured on TV, film and in print for some of the largest publications. I have worked with many sports teams and public figures. From being an educator for Hattori Hanzo, Andis and Paul Mitchell, I started my own brand Popular Nobody and Artistic Family. I have just opened a private studio in Dallas—the Popular Grooming Lounge—where I will be back behind the chair and also using that space for photo shoots and filming content for my new app that will be coming out later this year.
The Why: I love young talent because they are so creative and are doing things that are edgy and mind-blowing. They have no fear and for the most part they want to be business owners and so much more.
The One to Watch: Trevor Moots 
I think very highly of him, not just as a barber but as a man as well. I feel Trevor is a very talented young barber with so much passion and love for the craft. He has a solid foundation for education and the growth of others. Trevor reached out to me while he was a student at Paul Mitchell The School Orlando and asked me to be his mentor, and we have been rocking for the same team ever since. T is very well rounded and versatile, doing everything from short cuts, long cuts, graphics and styling.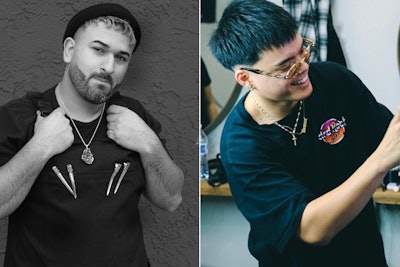 The Expert: Ody
The Chops: I have been in the hair industry since I was 14 years old, and I am now 30. I simply love this industry because I'm able to create wonderful artwork and transform people to look like movie stars. I simply love the challenges that come with working on hair. I come from a Hispanic family raised Jewish and am the first in my generation to take an interest in barbering.
The Why: What I love most about young talent is that they remind me of my passion for art, and I love seeing how excited they get when they get the opportunity to evolve into platform artists. I love barbering because you get to be part of a universal family of stylists and barbers who share the same feelings over hair.
The One to Watch: Kristopher de Guzman
I believe that Kristopher de Guzman is a barber to watch because he shows so much effort in barbering and reflects passion in everything he posts. He's learned from barbers like myself about individualism and has his own style so he can grow as an artist in this industry.
I know Kristopher from seeing him compete and network in various barber gatherings, and in some cases I have seem him compete against other barbers on stage. [Kristopher] is a young and super talented individual. When I see his work it makes me excited to see how vivid and alive it is. You'd have no idea that he has just three years of experience. It's very impressive to see how quick he is to pick up great skills like the ones he has.
RELATED: 11 of the Country's Best Barbershops and Male-Focused Salons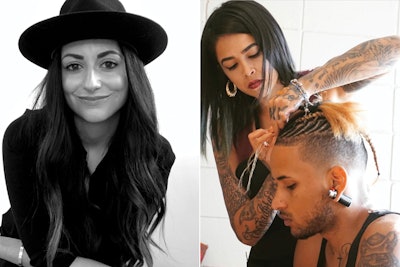 The Expert:,Whitney VerMeer
The Chops: I am a cosmetologist who is barber-trained. I wear a lot of hats in this industry! I have a one-chair creative studio where I take clients and create editorial work. I am part of Beauty Underground, an artist collective of some of the most influential hairdressers in the industry. As an educator, I work as a Global Platform Artist for Mizutani Scissors, and just last month I started a new role as Creative Lead of Global Education for Andis!
The Why: As an educator, you should want to see the newer generation surpass you. It's necessary for the industry to keep moving forward. With barbering expanding so vastly over the last few years, I am honored to play my own part and I love supporting young, fresh, innovative talent!
The One to Watch: Pati Plymire
I looked through a few people, but there was someone specific who stuck out to me—if you look at her work, you'll see what I mean! Her attention to detail is incredible! Not only does she do amazing haircuts, but her braid work is next-level. I love seeing fresh talent and feeling inspired by their work. I met Pati at an award show last year and have seen her at several shows since. She is someone who is hungry for knowledge and has put in the work and the time to travel all over the country to learn from her peers. She is dual licensed, but is focusing more on barbering and braiding.
RELATED: Essential Men's Grooming Tips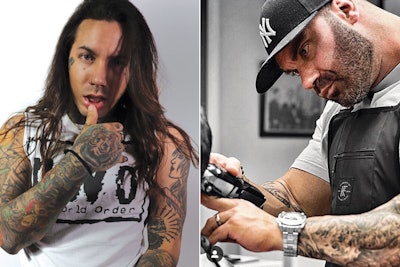 The Expert: Luis Chevere
The Chops: While my career began when I got licensed at age 21, I have been infatuated with hair since 16, when I started cutting my friends' and my own hair. My career was originally focused on cutting long hair, but then I made the move to fading/short hair. Cutting has always been my passion, and now education is too. There's constant growth in this industry—now some barbers are putting down their clippers and picking up scissors. It's an amazing thing to be a part of this, seeing barbering and cosmetology become one.
The Why: I'd have to say that what I love about young talent is their eagerness to learn with an open mind. Their thirst for knowledge and success; I admire that the most. I'm proud to be someone people can look up to and help guide them through their careers in this industry.
The One to Watch: Wes Staucet 
One of Wes Staucet's amazing skills is making every image he creates magazine-worthy. His work cannot be missed because of his trademarked edits, but you can't overlook his skills as a barber. Not only is he a great barber; he's very humble, to say the least. Plus, he looks like a pro wrestler! We corresponded through Instagram and finally met this past summer at BarberconNYC. Once we met, we quickly became close and now we talk almost every day.
RELATED: How to Create a Modern Day Pompadour
The Expert: Michael Kelley
The Chops: I started my barbering journey 16 years ago in Kingston, New York. I've been cutting for 14 years, now in El Paso, Texas. I love the fact that barbering can take you into different industries where you can cross-promote and even invest into more than just what you do behind the chair.
The Why: I love how confident young barbers are. They take advantage of what they have and are brave enough to use it and not wait for approval or acceptance. Barbering can take you into different industries where you can cross-promote and even invest into more than just what you do behind the chair.
The One to Watch: Victor Fontanez 
First of all, this is so tough because I could list a bunch of barbers. I love how confident young barbers today are. They take advantage of what they have and are brave enough to use it and not wait for approval or acceptance. But I think Victor Fontanez is a barber you need to keep your eye on. He's incredibly skilled for being so new to the industry and what's even crazier is that he's ahead of the game in marketing himself and promoting a product. This is really unheard of at such an early start.
I met Victor in Tucson, Arizona, at a barber expo and I watched him compete live. Incredible fading. He also is incredible at documenting his work via Instagram!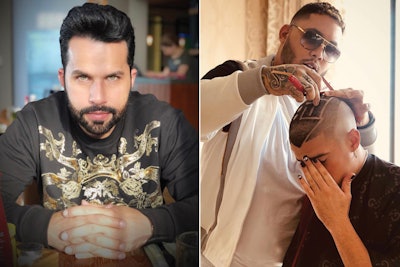 The Expert: Jason Reyes
The Chops: I have been in the industry for a very long time as a barber and hairdresser. I've traveled the world doing hair shows, photo shoots, seminars and so on, and have helped Paul Mitchell develop their barbering curriculum and trained their trainers for many years. I have also won awards and have had lots of print work in magazines. I have owned several businesses and I'm currently working on building education through social media. Sometimes people ask me, "Are you a barber or a hairdresser?" I say I like to cut hair—it doesn't matter who you are or what you call it, it's about understanding the principles of haircutting.
The Why: I love young talent because of their hunger. And now that they have social media to share their talent, they have elevated the standard of barbering. Many don't take no for an answer and have pushed to become young entrepreneurs as well.
The One to Watch: Luis Rivera 
Right now, Luis Rivera is cutting some of the biggest artists in the Latin community, like Nicky Jam, Bad Bunny and J Blavin, to name a few. He's a young barber with a business mind and he's very humble with a servant's heart, always seeking growth and willing to learn. I met him through social media, and then we built up a friendship, but he always sees me as a mentor. I've seen him grow tremendously in the past year, and he kills it in fades and designs.
This story first appeared in the Winter issue of MAN magazine. To receive the magazine, click here to subscribe.
[Images: Courtesy of Razoom Games, Getty Images and Instagram]