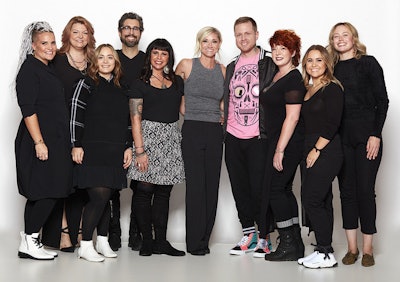 Aveda, The Art and Science of Pure Flower and Plant Essences, announced the creation of an all-new Artistic Team dedicated to the brand's North American market. The North America Artistic Team includes top Aveda Artists across several technical and business categories: Hair Color, Hair Cutting, Makeup, Styling, Texture, Social Media, and Spa.
The elite team will be focused on advancing education in North America, bringing Aveda Artists the modern training and tools they need to take their artistry to the next level. The North America Artistic Team will be the face of the brand's educational offerings in this market both online and offline – from leading virtual trainings online to co-hosting experiential multi-day events in markets across the region. In addition, the team will be deeply involved in developing new educational curriculum tailored to North America – focusing on the trends and needs unique to this market.
"Aveda artists keenly recognize the value of learning and evolving, and we are constantly developing new ways to support them in their pursuit of professional growth and advancement," said Cheryl Jass, Vice President, Education, Aveda, North America. "Next year, we're unveiling a new chapter of Aveda education emphasizing highly-personalized, tailored educational opportunities. Education, like everything in a salon, is not one size fits all, and that can be especially true from region to region. The new Artistic Team is the first component of the new look of Aveda education in North America, and we are thrilled to have such skilled professionals dedicated to advancing the artistry of the Aveda network by our side."
The first Artistic Directors named to the North America Artistic Team are three of the most highly-regarded, sought-after artists and educators in the Aveda Network:
Dusty Rhode, North America Artistic Director, Hair Cutting
At the early age of 15, Dusty Rhode was already focused on becoming the next great hairdresser. After graduating top of his class from an Aveda Institute, he worked behind the chair, and ultimately joined Aveda as a Purefessional, where he was the most successful and
requested educator in hair cutting. As North America Artistic Director of Hair Cutting, Rhode will teach advanced cutting courses for Aveda Artists in North America, develop educational curriculum for hairdressers, collaborate on regional trend forecasting, and more.
Lupe Voss, North America Artistic Director, Hair Color
Lupe Voss is one of the most sought-after hair color educators in the Aveda network, with a highly technical approach to color placement and formulation that has colorists from around the world seeking her expertise. Voss is co-founder and co-owner of Julian August Salon in Redlands, Calif., and founder of Hair Color Magic, an education company that exclusively uses Aveda hair color. As North America Artistic Director of Hair Color, Lupe will collaborate with Aveda's product development teams to form new professional products, develop new hair color educational curriculum, and travel the region to connect and share her craft with other Aveda colorists.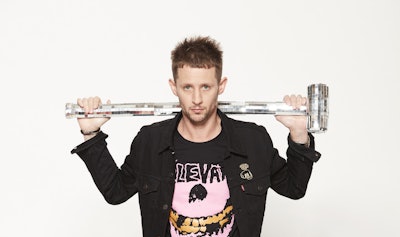 Tatum Neill, North America Artistic Director, Social Media
Neill is the founder and director of Elevate Hair, a provocative and dynamic hair show concept that fuses DJ culture and street fashion with hair artistry. Neill's compelling approach to developing social-first content helped Elevate Hair break into the hair scene, and quickly build an online community of like-minded, skilled hairdressers all drawn together by an innate need to express themselves creatively. As North America Artistic Director of Social Media, Neill will develop engaging and interactive educational curriculum and events with the goal of providing Aveda Artists with the tools they need to become micro-influencers and propel their careers.
The North America Artistic Team will work closely with the Global Artistic Team to develop educational content and experiences that are relevant to the unique needs and opportunities within North America. Global Artistic Team members include Ian Michael Black, Global Artistic Director, Hair Color, Ricardo Dinis, Global Artistic Director, Hair Cutting, Janell Geason, Global Artistic Director, Makeup, and Allen Ruiz, Global Artistic Director, Styling. Within North America, the North America Artistic Team will work closely with Aveda Ambassadors and Aveda Purefessionals to connect beauty, wellness, fashion and art with the latest trends and bring them to the Aveda network in new and interesting ways.
The debut of the North America Artistic Team is part of a newly refreshed, cutting-edge education offering from Aveda under the brand's Aveda Academy platform. Launching in January, the revamped educational experience includes virtual classes, customized in-salon events, 3-day immersive experience classes, pop-up in-person events with guest artists, and even what Aveda is calling 'Global Artistic Team Worldhood Collection Classes' – bringing the artistry and inspiration from the opening presentation at Aveda Congress 2018 into a hands-on learning experience in markets across North America. Aveda artists can experience the new programs through a refreshed education portal launching in January: AvedaEducation.com.
Additional members of the North America Artistic Team will be named in early 2019. All Artistic Directors will be supported by a small group of Artistic Team Members specific to their craft. Auditions to be a North America Artistic Team Member will take place in early 2019 and are open to all artists at Aveda-exclusive salons. For more information on auditions and to download an application, visit AvedaPurePro.com after December 12, 2018.
[Images courtesy of Aveda]