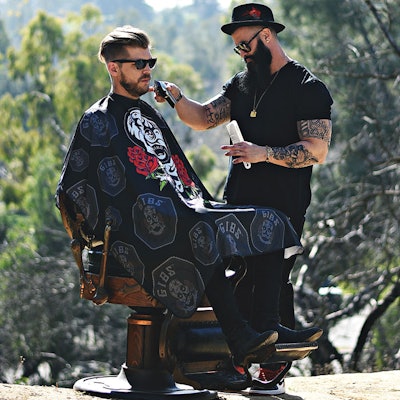 Gibs Grooming director of education Danny Amorim shares his journey from working behind the chair to owning multiple barber shops.
When I was 14, I experimented by cutting my own hair. I accidentally gave myself a mullet the day before I went back to school after Christmas break. My dad made me go to school like that for a week to try and get me to stop using clippers—but it didn't work. Once I started to get the hang of it, I began offering haircuts to my friends in the neighborhood.
After graduating from high school, I was still unsure of what I wanted to do, but I knew that I didn't want to go to college. My barber at the time told me that I was going to come work for him once he opened his shop. Throughout my life, many things have kind of "just happened," but it's all about being prepared and brave enough to handle anything that gets thrown your way. I was working an overnight job that I hated at a warehouse, stacking pallets with store orders. Every paycheck was either off or late, and when I eventually spoke up for myself, I was fired. I was in disbelief, but it was God's plan for that to happen because I went straight to my barber and asked if that chair was still available for me.
RELATED: Behind the Scenes of the GIBS Grooming Cover Shoot
I enrolled in school and began working in the shop. I was far from the best barber, but I made sure that I was the most hospitable, reliable and responsible worker; I was on time every day and made sure to greet everyone who walked in; and I was able to build a clientele with my customer service and personality.
When I turned 20, I received my master barber license and was working on getting my cosmetology license. I had built a pretty extensive clientele and even installed my own private landline in the shop so I could personally tend to each phone call in the most professional way possible.
At 21 years old, an opportunity to open my own shop dropped into my lap. I wasn't ready, but "life happened" again and I bought it! Was it tough? Absolutely. But I went for it and Klippers Barbershop was established in December 2001. People thought I was crazy and that I should have stayed where I was, but I never worried. Three months in, the shop was already paying for itself. Just over a year later, I relocated to a better area. I pushed through my fears and doubts of opening in another location, and in 2003, we expanded and tripled in size.
RELATED: Barbers Are Giving Back to their Communities
In 2005, the same barber who helped me start my career was selling his latest shop and the building in which it was located. This time, I wasn't signing a lease—I was buying a building and a business! I was looking 20 years ahead and knew that the sacrifice would pay off in the long haul. After I sold everything I owned, the shop was mine. I opened the doors to Klippers 2 in April 2005. It's been far from easy to maintain the shops and keep the highest quality over the years. I've seen barbers come and go, but it's part of the business. In 2012, I opened a third location, Klippers 3—a 2,200-square-foot space on a busy street right next to a high school. It was a no-brainer.
My latest venture has been as director of education for Gibs Grooming. I've had a blast traveling all over the country educating, motivating and inspiring others. I'm currently working on a mentorship program to help up-and-coming barbers, stylists and entrepreneurs. I always look forward to helping guide those who aspire to do more.
I hope my story will inspire others to be persistent, trust the process and never apologize for being a badass.
—As told to Jasmine Brown
[Image: Courtesy of Gibs Grooming and Urban Original Photography]