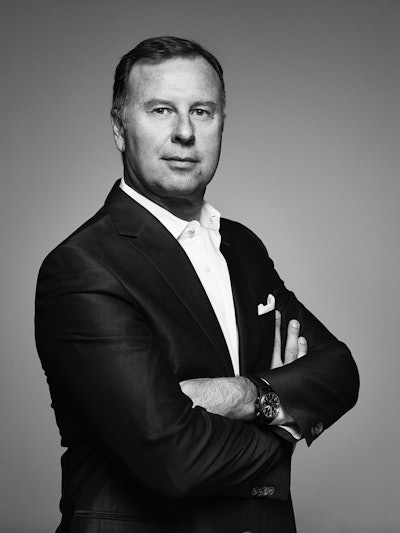 Coty today announced the appointment of Sennen Pamich as Senior Vice President of the company's Professional Beauty Division in North America. Pamich will join the company at the end of October and report to Sylvie Moreau, President of Coty Professional Beauty. He will be based in the division's regional headquarters in Calabasas, California.
"Sennen is an exceptional leader with a track record of delivering results, deep beauty and salon professional experience as well as strong entrepreneurial skills," said Moreau. "He brings the knowledge, skill and passion to lead our North America region and to take our Professional Beauty business to the next level."
Sennen Pamich is a 20-plus-year beauty industry veteran with a wealth of experience across the salon, luxury and consumer retail. He began his career at P&G, followed by assignments at Johnson & Johnson and Bulgari. In 2009, Pamich moved to the U.S. with The Colomer Group, where he led the company's Professional Division for the Americas, before taking on the role of Global President for Revlon Professional Beauty following the merger of the two companies in 2013 and adding retail brands to his remit in early 2017.  An active member of the salon and beauty industry in North America, Pamich was on the Board of the U.S. Personal Care Product Council (PCPC) for several years. Since leaving Revlon last summer, he has been working with start-ups and private equity companies focused on beauty. 
"I am energized by the opportunity to serve beauty professionals with breakthrough technology, education and inspiration through our portfolio of iconic brands—Wella, OPI, Clairol, Sebastian, Nioxin and ghd—which are leaders in the industry," says Pamich. "Most of all, I'm thrilled to be part of the team shaping Coty as the challenger in beauty, with a culture and mission that looks to the future."
Sennen succeeds Salvatore (Sal) Mauceri, who is leaving the company for personal reasons. Sal has been associated with the brands of Coty Professional Beauty since 2005, when he joined Wella and P&G Salon Professional. He was appointed the leader of North America Salon Professional in 2014, including working on the region's merger of the P&G Specialty businesses with Coty in 2016.
"We are thankful to Sal for his tremendous contributions to our business, leading North America to sustainable growth, including driving a turnaround of the OPI business. We wish him all the best for the future," says Moreau.
"I cherish the time I've spent with the Professional Beauty organization and the close personal connections I've made across the industry," says Mauceri. "While it's always hard to move on, I feel the strong call of my family ties on the East Coast, where I will relocate. I know that under Sennen's leadership, Coty Professional Beauty will reach new heights in North America."