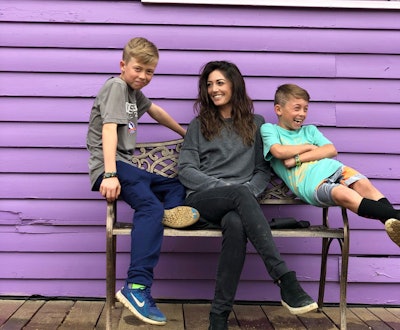 "Mom! I'm hungry! Mom!!!!!"
What happened to the days of waking up to the subtle beeping of my alarm clock? What about the days when I didn't have to set an alarm at all?  Those days are long gone for many of us.
I am a mom of two boys: Kael, 10, and Westley, 8. I work full time, but I make myself available for most (if not all) of my children's commitments. I actually enjoy this crazy hustle more than the so-called relaxing days before kids and a full-time career. I enjoy feeling accomplished at the end of an 18-hour day. Busy, crazy and hectic—that's life! But it is a gift!
Related: Nine Zero One Founders Launch BeYOUtiful Foundation
So how do I do it? How do I keep it all together? How do I maintain staying up-to-date in this whirlwind beauty industry and be the ultimate mom?
I don't.
Plain and simple: I can't do it all. However, you can bet I will die trying! Being a working mom is hard and there's no silver bullet. But, I have a few tips to help!
Embrace every moment.
No matter how short, at work or with your kids, enjoy the present.
Write a daily to-do list! Every night, I make sure to write out all of my to-dos for the next day. I put each to-do in my phone so that I can do my best to plan out what my next day will look like. I tackle it in an organized way. One day at a time.
The task can be as simple as "get to work 10 minutes early," which can be an accomplishment all in itself! Especially after getting two kids fed, lunches packed and dropped off at school (before the bell rings). It can take me an hour and a half after to get into the salon because of LA traffic. Sometimes I remind myself that I'm on a driven career path and I have one of the best jobs in the world, in an industry I truly love!
Prioritize Your Schedule
We're lucky to be in an industry where many of us can control our schedules. Clients can be in need of certain days and times such as weekends, so I always try to balance that by taking a mid-week break. This break then gives me the chance to be at boys' school to volunteer or possibly sneak in an appointment for myself.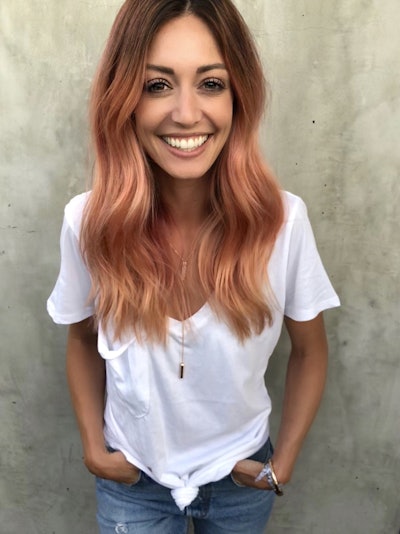 Create meaningful friendships
It truly takes a village to raise a family. Financially, it can be expensive to hire a sitter. It sometimes feels like all my money goes to a sitter. So, what's the point of working, right? That's where my friends come in. I found that I feel better about asking my friends (since I have no family in the area) to help me with my boys when I can offer something in return. I make a deal with them so I can maintain my work schedule. I do their hair in exchange for an afternoon pick up from school or a Saturday hangout. They are happy to do it, and in exchange, I don't feel like I am abusing our friendship!
Make Connections
You've seen my tips for how to help your kids, but how do you practice self care in such a hectic industry?
I have been able to maintain all my beauty "needs" from connections I have made around the world. Trading is the only way I am able to get a facial, new clothes, maintain lash extensions, etc. The list can go on and on.
There is no way I would have experienced the things I have in the beauty industry if it were not for my connections. I use trade to get the beauty services I desire. My connections are people who want the same things as I do—new experiences without the price tag.
It's certainly not easy to keep up in an industry as fast-paced as ours, but I can assure you, being a mom gives you an upper hand! We multitask like no other and have a drive that is far beyond ourselves. My boys give me motivation and strength to stay current and tough through it all. I laugh, smile and then look forward to the new to-dos of tomorrow.
You got this, Mom! You are a Beauty.
xx, Jill
A proud mom and active beauty coach, Jill excels in bringing creative solutions from the salon to the screen.
Oregon-grown and raised, Jill spent her early years exploring the coast, guiding river trips and carving the slopes just north of the California border. A rugged upbringing and love for the outdoors instilled in her drive to succeed. Graduating a year early from high school, she decided to pursue a career in the hair industry. She went on to Marinello in Las Vegas where she met longtime friend, Riawna Capri. The two started a whirlwind journey that would eventually reunite them years later.
Jill graduated Marinello in 2002 and worked at a salon in Bend, Oregon before moving to Medford to help the opening of Cielo Salon. It was during this time that she got hitched and started a family. In 2011, she moved to Los Angeles and was welcomed into the Nine Zero One family. She operated the Braid Bar on Santa Monica Blvd and steadily grew her clientele. Over the next few years she worked her way up as a stylist and pursued opportunities to meet new clients and assist some shining stars—Julianne Hough, Nina Dobrev, Jessica Simpson, Selena Gomez, Lili Reinhart among others.
"Embrace the chaos, seek creativity and stay positive." Jill understands the whirlwind of the industry but does her best to build solid relationships with each and every client. Relationships matter and so does helping people feel good about themselves. Among her presence in the salon, Jill also works Dancing with the Stars, red carpet events, oversees direction of the Beauty Coach video series, tours with Beauty Coach and is an educator with 901 Academy. "The payoff is seeing the smiles on my clients' faces. I want them to be confident, be comfortable and to know I'm always there for them."