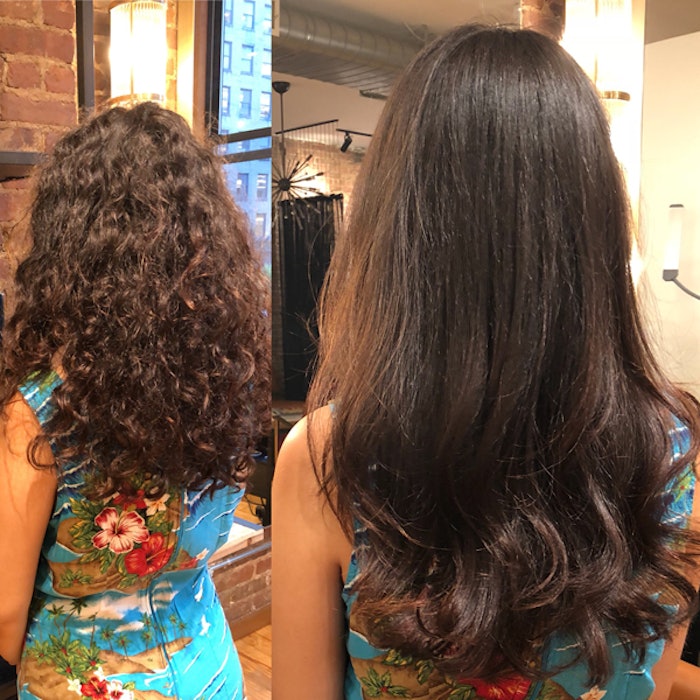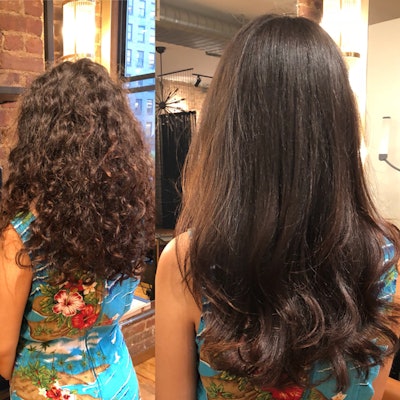 How are you and your clients celebrating National Blowout Day? To prep editors for the hair-focused holiday, Oribe hosted custom blowout sessions at the Davide Hair Studio in Manhattan's Gramercy neighborhood. Davide Marinelli, Oribe Educator and Stylist/Colorist opened his namesake studio a year and a half ago, transforming the third floor space into an ultra luxe minimal oasis—thanks in part to his interior designer partner. We sent contributing editor Emilie Branch to experience an Oribe blowout firsthand. 
Before beginning the blowout, Marinelli enhances her natural curl, adding hydration and creating definition using hero product Mystify Restyling Spray to dry hair. Though it may seem counterintuitive, he explains that this will extend the life of the blowout. "It doesn't have a strong scent and is really light," says Marinelli of Mystify. Think of it as a three-in-one, as it "reactivates your natural texture, calms down the hair and has 450 degree heat protection." 
Marinelli applies it to wet hair before he blow dries, not just to shield against heat damage. "It's mainly for the next day, to kind of reactivate your product or bring back your natural curl," he explains. To make sure locks are covered, he applies the product through the hair in sections and scrunches it into the curl using his natural body heat. There's no need to worry about over-applying—the product is lightweight and doesn't weigh the hair down, which is perfect for thorough application. "I feel like it came out for the client who wants to tame their curls, and who frequently does blowouts, as it is so hydrating," he adds. 
Though Marinelli recommends changing hair products with the season, this one can be used year-round because of what it does—"during the winter we get static-y and you want to add in moisture, but during the summer hair gets fluffy and it helps tame texture."
Next up is Flash Form Finishing Spray Wax. "It's the lightest air wax out there" assures Marinelli. "It has a satin feel and doesn't wear hair down, it gives separation and defines curl." You can also use the unisex spray to achieve a killer wet look; but for pre-blowout, spray from the bottom up in order to break up the curl and give hair more separation.
After the curl-enhancing prep, Marinelli heads to the sink to shampoo and condition. To kick off the blowout on wet hair, he goes in with Featherbomb Weightless Styler. Featherbomb is a moisturizing balm and "great for those with sensitive scalps," he says of the product, which will create volume at the crown. Step one is applying it gently at the root with the fingers to further stimulate the scalp. 
Marinelli then adds Straight Away Smoothing Blowout Cream, one of his fave products "all year round." Infused with anti-humidity protectant, Straight Away will prolong the life of your blowout and prevent the "fluffiness" dreaded by clients and stylists alike. Marinelli layers in the cream, mixing it with a touch of Gold Lust Nourishing Hair Oil, "to give it some shine." This mixture only needs to be applied from mid-length to ends, as Featherbomb is already coating the roots. 

Marinelli applies Royal Blowout Heat Styling Spraylast, "because it helps cut down the blowdry time and has a lot of different oils in it." The product also helps to break down the curl while adding in even more shine.
It's finally time to pick up the dryer. Marinelli's main piece of advice for achieving the perfect blowout is that there's no such thing as becoming too familiar with your client's texture. "You want to make sure you know what kind of texture you're working with and the texture you want to achieve," he explains. Knowing this will help resolve where you should apply the product, not to mention what type of product to apply. It's also a stylist's duty to inform clients of potential pitfalls in their at-home care regimens.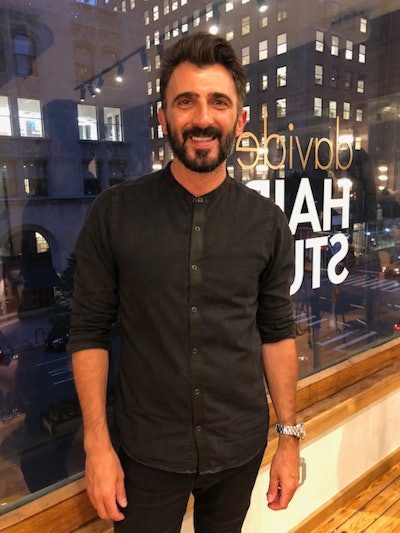 "You want to make sure when clients apply product, they don't apply it on really wet hair," he explains, as this is how product becomes diluted. "You would never put La Mer crème on your face if it were soaking wet," he describes. "It's nice to have a little dampness to the hair, but you don't want it to be dripping wet. It's best to towel dry as much as you can, apply product where—and when—and then start with the rough dry." Marinelli dries hair free-hand until it's about 70% dry, as locks are most vulnerable when wet.
"If you go in with a brush that's pulling at it, that's when you start to get breakage," he explains of the delicate nature of wet hair. "And on top of that with the heat, you're getting double breakage, so knowing your product is very important, and that's what I love about the Oribe product." 
After hair is mostly dry, Marinelli creates circular sections and picks up his brush. Everything is considered, from what product should be applied and where, to the hair tools. "It's very important we know what brush to use, for the specific type of hair," he reminds. "For someone with a lot of medium to fine texture hair, stay away from metal brushes." Marinelli won't use any type of metal brush unless the client has really thick coarse hair that is overwhelming for a boar bristle. To get his perfect blowout, he relies on the Ibiza White Silk Brush. "It's not as tight as the dark one and doesn't over-stretch the hair, so it still maintains the hair's elasticity for a nice smooth feel and shine."
To finish, Marinelli tames baby hairs, blowing out edges separately with a comb. This really lays the style, setting it in. He then changes his heat setting to cool, locking in volume. And just like that, we're ready to tackle the humidity and already looking forward to how our hair looks on Day Two.