Sharing is Caring: Pass your knowledge onto others and you'll have knowledge passed onto you in return. Learning and sharing go hand in hand.
From Dusk Till Dawn: I'm a night person. I find that while the world sleeps I indulge in the quiet and become most creative. I will work on a project or surf the internet for inspiration and watch educational videos. I'm a true hair nerd at heart.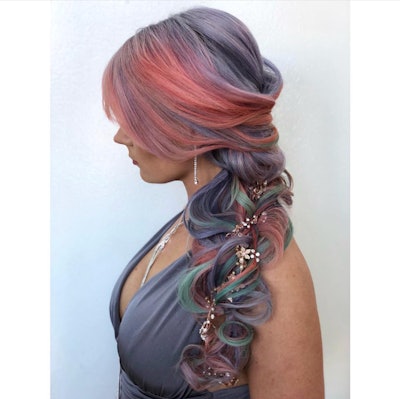 Social Studies: I treat my Instagram (@hairbyfranco) like a gallery of work, sharing my masterpieces and the stories behind them. I didn't have this amazing tool early in my career, and today it's a great way to meet so many people from all over the world—it's a source of opportunity.
RELATED: Cesar DeLeon Ramirez Creates Two Whimsical Hairstyles at the Michael Costello Show
Drink Up: Everything that goes up must come down, and I'm referring to my two most favorite indulgences: coffee and martinis. Starbucks is my daily must-have (black with sugar), and a dirty vodka martini is my occasional friend—with blue cheese and olives, of course.
Day at the Beach: When I want to take time off, I go to the beach. The ocean air, the sound of waves and the sand between my toes are a gift. A chance to exhale tension and inhale the beauty of the sea refreshes my mind.

Object of My Affection: I'm obsessed with Oribe Superfine Hair Spray—its shine, fragrance and flexible hold. I never do an editorial shoot without it.
VIDEO: Anna Cantu Takes us Behind the Scenes with Farouk at ABS
"I knew early on that I wanted to be a hair artist. I remember as a child watching my mother style her hair, and how she would transform into a polished beauty right before my eyes," says Hernandez. 
[Images: Courtesy of Franco and Oribe]