When Yris Palmer started lashing to support an acting career, she never realized her "Side hustle" would become the starring role of a lifetime. 
When your clients come to you clutching a photo of reality star-cum-makeup mogul Kylie Jenner's lashes, they're pointing to the artistry of Yris Palmer, CEO of Star Lash Extensions and owner of Star Lash Beauty Bar in Los Angeles. In less than five years, Palmer has helped shift the needle of lash trends, creating some of the most-shared fluffy lash designs in the world (think: Ariana Grande and Selena Gomez). Here, she talks about her lashing beginnings, those coveted Jenner lashes and the power of an A-list Instagram share.
How did you get your start in lashes?
I was visiting my fiancé in London and auditioning... pursuing my dream career in acting. Since I was 15 years old I've always had a job—I've literally done it all, from swirling yogurts to selling Herbalife. The idea of being a struggling actress never sat well with me, and in order to pursue my acting career I knew I needed a "side hustle." At the time, I noticed that everybody in London had these amazing lash extensions and I couldn't think of one person in my circle back home (Los Angeles) who did lashes. I decided to take a certified lash course in London, and little did I know that my side hustle would turn into this amazing company I created [in 2014], Star Lash Extensions.
How did you nail your first celebrity lash job?
My first celebrity client was [singer] Christina Milian who found me on Instagram and started following my feed. Once I did her lashes she posted [the results] on her Instagram page, and every client after that has been entirely word of mouth.
RELATED: Lash Pros Share Advice for Posting Photos on Social Media
You create some of the most talked about lashes: Kylie Jenner's. Do you keep her style pretty consistent or does it change with the times?
I've been doing Kylie's lashes for about four years now, and we've changed her style throughout the years. Right now, I stick to doing her lashes very natural, and she [inherently] has very beautiful, long lashes, which makes my job a lot easier!
Do you think celebrities help bring attention to lashes?
For a long time lash extensions were a Hollywood secret ... and they got more popular [among the masses] once celebrities started admitting that they were wearing them. Celebrities are trendsetters and by admitting they wear lashes, they made a lot of women's lives easier!
What do you love about being a lash artist?
That instant happy feeling that we give other women. Clients are always so excited when they see the transformation of their lashes.
What lash trend are you most excited about and what should be left in the past?
I'm most excited for the "American wispy" trend! And I could do away with "broom-lashes," which are lashes that are long all the way across [the eye].
RELATED: Yelp Marketing 101 for Salon Owners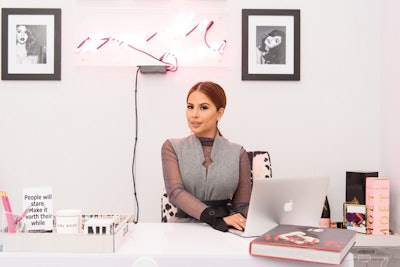 How did you set your service prices?
I initially looked at our competitors, and we decided to price ourselves at a midway point. It's a luxurious service, and I wanted working women to
be able to afford getting their lashes done on a regular basis.
Problem clients: Send them packing or put in the effort?
For each and every client that walks through our door, celebrity or not, we offer them the best customer service possible, regardless of any prior issues.
RELATED: Beauty Marketing Pros on Optimizing Social Media Hashtags
What do you think a lash artist needs to stand apart from the crowd?
I believe there's no such thing as an oversaturated market. As long as you're determined to perfect your technique, then your work will stand out amongst the rest.
Inspiration
Definitely my clients. I work on different people everyday, and each one wants a different look with her lashes. It's exciting to be able to challenge myself to achieve what they desire.
Technique She's Loving
Our Volume technique. ... I think as a global trend, everybody has gotten addicted to how their lashes look with Volume, so it's currently all about the fluffy fullness.
Most-Used Lash Curl
It varies with each client; we choose curls based on eye shape and the look clients are trying to achieve. However, our most popular curls right now are the C and D Curls.
Advice on Success
Continue your education courses throughout your career to keep up with new trends and techniques. Never stop educating yourself.
[Images: Courtesy of Yris Palmer]