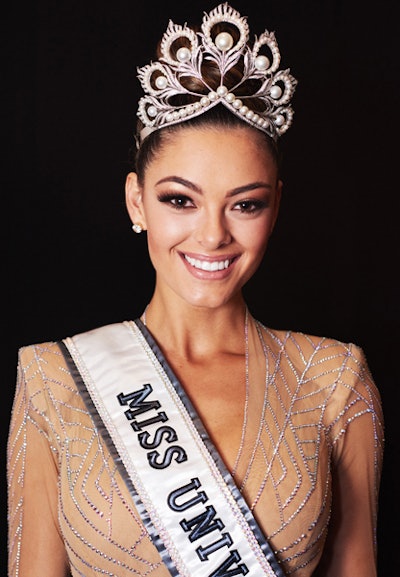 It was a night celebrating strong women with big personalities, and in the end, Miss South Africa Demi-Leigh Nel-Peters was crowned Miss Universe 2017. Launchpad sat front row at Las Vegas' Planet Hollywood Resort for the international event along with the Farouk Systems team, who continue to cosponsor the pageant of which founder and CEO Farouk Shami also serves as a judge. We had the opportunity to chat with Nel-Peters, who shared what she's looking forward to in her new role, best beauty practices and what drives her. 
How does it feel to be the reigning Miss Universe? 
It feels very empowering. It's exciting that I get to have the same platform as the women who held this title before me–they're my role models.
Best part of the new role?
I'm thrilled to have the opportunity to travel extensively and experience new cultures.
Favorite hair product?
I love the CHI Tree Oil Revitalizing Masque. When I'm not working, I will walk around with it in my hair all day long in my apartment. 
Day-to-day beauty routine?
I wash my face and moisturize each morning and evening, making sure it is well cleansed in addition to keeping hydrated throughout the day– I try to drink 12 cups of water! I also like to use a body scrub once a week.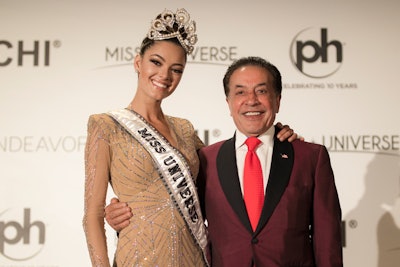 Best advice you've received?
Be authentic, as that is what makes people relate yo you and make you more approachable. 
Personal mantra?
It's a quote by Albert Einstein: "The one who follows the crowd will usually get no further than the crowd. The one who walks alone is likely to find themselves in places no one has ever been before."
What inspires you, and how do you wish to inspire others?
I get very inspired when I see others achieve their dreams. Watching other women live out their dreams encourages me to work hard and attain my own goals.
Power outfit?
A fitted, sleek suit: one with an open chest to make it bit more stylish and sexy. And a good blowout for my hair!
[Images: top courtesy of Miss Universe Organization, bottom courtesy of Mohammed Ghanayem]