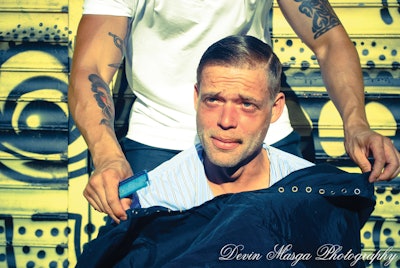 Want to make the world a better place? Sometimes all it takes is some clippers and an idea. From restoring hope and confidence to those in underserved communities to raising awareness for men's health issues, we've rounded up a few of the standout individuals and organizations leading the charge to look at what they're doing, who they're helping, and how social media plays a role in their outreach.
Haircut4Homeless
In 2016, after 11 years cutting hair, Brennon Jones left the world of barbering and became a wardrobe stylist. But little did the 29-year-old know that a chance encounter with a homeless man in early 2017 would forever change his direction. After giving the man a few bucks and a banana, Jones later realized he'd missed an opportunity to give something more meaningful to them both: a haircut. So he drove around the streets of Philly and looked for someone to help.
Armed with clippers and a power inverter that hooked up to his car's battery, he began doing five, then seven, then 10, then 20 cuts a day. He posted his efforts on social media, @haircut4homeless, which caught the attention of local media and Sean Johnson, an area barbershop owner. Now, more than 1,000 complimentary cuts later, Jones' kindness is being repaid tenfold. Johnson first offered him a job at his shop, but Jones politely declined. But with the cooler months approaching, Johnson came back with an offer Jones couldn't refuse: his own shop. Johnson had a second location that he'd been trying to get off the ground.
"I decided what other way to help a brother out than to donate the shop," Johnson says. Now, the new Phenomenon Perfection Barber Lounge has partnered with local shelters to offer free haircuts and food on Mondays. And just to prove these haircuts make a difference, look no further than Jones' first client, Braden. A few days after giving him the cut, Jones went back to check on him but couldn't find him. "I was hoping nothing bad happened to him," Jones says. "When we did catch up weeks later, he said he got offered a full-time job."
#BeAwesomeToSomebody
Mark Bustos, founder of #BeAwesomeToSomebody and barber at NYC's Three Squares Studio, has been cutting the hair of homeless men and women for several years now. The idea to give back was born in 2012 when he and girlfriend Lucille Javier visited the shop in which her father used to get his hair cut in the Philippines. They rented a chair for the day and offered free cuts to local underserved children.
"The feeling was so rewarding that I decided to bring it back home to NYC and every other destination we travel to on vacation," Bustos says. His story went viral in 2015 thanks in part to his powerful posts on Instagram, and since then his do-good attitude has only increased. He's spoken on panels across the world, shining the spotlight on the importance of what hairdressers and barbers do on the daily. He has cut hair for people in the slums of Mumbai, the alleys of Cairo, the trash heaps of the Philippines. And through it all he's maintained his positive outlook and encouraged others to do more for their fellow humans.
"From fancy hair salon chairs to park benches, milk crates, city hall steps, tombstones, bamboo slats above sewage water, and even a cinder block acting as a child booster seat," Bustos recently posted, "you name it, I've been there. If you want something to be done, stop making excuses, work with what you have and just MAKE IT HAPPEN."
Walk The Walk Community
Manny Rolon has long been giving back--he credits his parents for instilling it in him at an early age, when they were building homes in South America. Rolon's first taste at paying it forward was in 2004 when he would cut hair for disabled kids at a special school.
Christin Armstrong is also no stranger to giving back, having served as the empowerment director of Hear the Hungry, a charity that aims to humanize homelessness. Together, the pair, who work at the Ammon Carver Studio in NYC, wanted to bring the gift of empowering haircuts as well as education to those less fortunate. Thus Walk the Walk Community was born. Through friends and connections, they were able to unite nearly a dozen stylists and barbers to travel to Dharavi, a slum in the heart of Mumbai, India, where they offered complimentary cuts to nearly 200 residents.
For 2018, Walk the Walk will reemerge in 2018 with a new focus and more ways for the community to become involved. "Truthfully I feel my clients better my life maybe more than I do theirs," Rolon says, explaining why he likes to give back. "I try and offer as much value as I am capable and I always feel so gracious to see someone else's joy. And even though that's not the objective, it's a great byproduct of authentically giving of oneself."
Saints Of Steel
Jaz Limos, founder of Saints of Steel, wasn't always a barber. In fact, she left her job as a business manager at Apple to follow her dream to "be the person I needed when I was younger," she says. "Because of my personal experience growing up, I felt compelled to focus on helping the LGBTQ population, specifically homeless youth," says Limos, who was ostracized when she came out as a teenager.
But she quickly realized that there are so many in need of help and she cast her net wider and enlisted others to help her serve all homeless populations. Saints of Steel encourages everyone to #BeASaint and volunteer time, money, and talent to creating self-confidence in those less fortunate. Currently, the nonprofit is raising money to transform a bus into a mobile barbershop and salon, fittingly called the Saints ON Steel Experience. Visit saintsofsteel.org for more info and to donate.
#Movember
By now, most people are familiar with the notion of men growing moustaches during the month of November, but not everyone understands why. The Movember Foundation is a worldwide organization focused solely on raising awareness and funds for men's health issues. The Foundation began in 2003 and has grown to encompass more than five million supporters globally, thanks in large part to its fun, irreverent #movember campaign that encourages men to "Grow a Mo, Save a Bro." Through men's health initiatives in 21 countries, the Movember Foundation works year-round to start conversations and drive research for prostate cancer, testicular cancer, mental health and suicide prevention.
In the fall of 2017, the Movember Foundation introduced a new facet to its outreach network: the Movember Rated Barber program. Because men tend to trust their barbers even more than they do their doctors, the Foundation seized the opportunity to use that natural connection and give barbers the necessary resources and information to have important conversations with their male clientele about men's health issues.
Barbers can visit movemberratedbarbers.com and work through a set of four short courses online, covering topics including specific men's health priorities, the role of a barber in raising awareness, how to approach conversations about health issues, and the different emotions and behaviors that may come up during these conversations. Once finished, barbers take a short quiz before becoming an official Movember Rated Barber, gaining access to even more information and resources, plus some cool swag.
Street Thug Barbers
On hard times, Ross Wilson had no money to give a man who asked him for change. Instead, he offered to cut the man's hair. To his surprise, the man cried—not because he was sad, but because he was seen. About a month later, Wilson met barbers Cameron Sterling and Josh Malcolm and Street Thug Barbers was born.
Every Sunday since August 2015, they have taken to the streets of Vancouver to offer free cuts to anyone who needs it. Now, stylists and barbers join the thugs, and recently Matty Conrad joined to celebrate his birthday and be part of the #huglife.
Get Involved!
Want to help out but don't know where to begin? Rob's Barbershop Community FoundationP offers several ways for you to take part. You can sign up for volunteer opportunities simply by signing up at thebrcf.org, says Robert Cradle, the organization's founder.  If you want to start your own charity, you can also visit the site to download a document that offers pages of commonsense and in-depth information. A $25 donation is suggested, which will help the RBCF provide
no-charge grooming services through one-day "pop up" shops, case-managed projects and installing full-service barber/salons at transitional shelters and public schools. In need of some tools? Wahl Clippers offers complimentary clippers for those who are looking to help others through its Cuts for a Cause initiative. Visit cutsforacause.org for more info. 
[Image courtesy Devin Masgra]