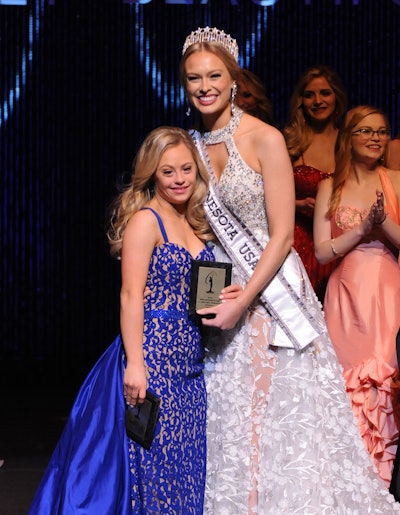 Miss Universe wasn't the only pageant happening this weekend. Sunday night at the Ames Center, new Miss Minnesota USA and Miss Minnesota Teen USA were crowned. The Burnsville pageant crowned Kalie Wright and Peyton Schroeder, but it was another contestant who's making headlines.
Mikayla Holmgren was the first contestant in the Miss USA system with Down Syndrome. She participated in every part of the pageant, and was awarded both the Director's Award and the Spirit of Miss USA Award. We spoke to Andrew Schmitz, who's been the official hair sponsor of the Miss Minnesota pageants for the past six years.
"I think the stress level was a lot lower than normal." Schmitz said of the backstage prep areas. "I also believe that because Mikayla brought so much positivity and energy to the room that it was just really different, in a positive way."
For Mikayla's hair, Schmitz said he met with her before the pageant in order to correct her color to the right length and blonde. She wanted curly hair for the pageant, so Schmitz used Sexyhair products as well as his own line to give her a gorgeous curl.
Schmitz said he thinks Mikayla being in the pageant will have a great affect on the pageant system in general.
"I think it's opening up door to just be who you are. There are no limits in this competition, and I think Minnesota is one of the states breaking down those barriers," he added, also referencing Halima Aden, who was the first woman to wear a hijab at last year's Miss Minnesota USA pageant.
[Images and video courtesy of Future Productions]