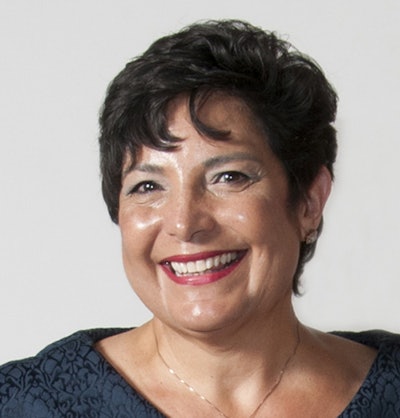 Recently, Launchpad had the pleasure of sitting down with Patty Schmucker, co-founder and CEO of American Made Beauty (AMB). For those of you who aren't familiar, it's the premiere marketplace for beauty and wellness brands verified to be made in and manufactured in America. The company also provides education and consulting services to help new and emerging brands navigate the complexity of bringing high-quality, safe and legally compliant products to market. Read on to learn more about her journey in the beauty industry, the role American Made Beauty plays, and more.
Tell us more about AMB and what it does.
When I look back at the beginning of my career in beauty, I can't say it was easy to establish a brand, but compared to the shifting landscape of the market today, it was a more predictable pathway. When a brand understood where to promote themselves in the market, there was a clear pathway to reach consumers. 
That's not the world we live in today. I recognized two problems in the marketplace that lead to the creation of AMB. The first was innovation coming out through emerging brands have been struggling to get traction in the market. The second is that a great deal of misinformation is going to consumers about American product safety and "Made in America" claims. 
AmericanMadeBeauty.com is the "Good Housekeeping Seal of Approval" for beauty. We are the only company who is verifying that brands follow FDA and FTC labeling and advertising requirements, so that consumers can make informed decisions about what they are buying. We help brands spread the word about the safety, innovation and quality of products made in America. Our services protect and build equity in what it means to be made in America. The AMB platform has created a community that is helping American brands connect with domestic and international consumers.
As co-founder and CEO of AMB, I personal review the final verification on all brands that earn an AMB verification seal. I also spend a great deal of time accessing the best minds in the industry to collect and memorialize our industries best practices for building commercially viable brands, developing foresight about consumers' needs in the future, and helping brands of all sizes stay relevant so that they can grow in the this rapidly changing market.  
What was your journey in the beauty industry like?
I earned my cosmetology license at 17 and worked behind a chair, first doing hair and then finding my passion in skin care and makeup for 10 years. I met Horst Rechelbacher of Aveda, a brand that defined the natural and organic beauty movement in the late seventies. I became one of the original Aveda distributors and authored the program for Aveda that resulted in salons giving us 100 percent of their shelf space. After selling my interest in my Aveda distribution, shortly before Horst sold to Estée Lauder, I went back to college to get an academic understanding of the first 25 years of my career. 
In 2001, I launched Performance Branding Services, where I shared with new and established brand owners the things I had learned on the street and in college on build a successful brand. In 2012, I was invited to bring together the industry for an education program to help increase the number of U.S. companies prepared to sell their brands internationally. Through the Center for International Trade, my team and I launched the Beauty Industry Market Access Program (BIMA). In the last five years, we have helped close to 100 companies reach $40 million in new export sales. I acquired an understanding of how the world sees America and the quality products that are made here.
At the same time, I also became acutely aware of the dissemination of inaccurate information about laws regulating American products, claims companies make about being made in America, and the safety of our products compared to those made in other parts of the world. AMB was created to take the best practices of our industry, the regulations established in the country to protect consumers by the FDA and FTC, and produced a "Good Housekeeping" seal of approval for beauty. We check to make sure that brands are making products in FDA-inspected cosmetic manufacturing facilities (not at home in someone's kitchen), that the products are labeled properly so consumers can make informed decisions before they buy, and that claims like "Made in America" are authentic. 
What role does AMB play in the industry and how will it impact others?
First, we believe that by verifying brands, we are protecting and building equity in what it means for a brand to be able to carry the "Made in America" moniker.  There are too many brands on the market today who are using the "Made in America" claim and do not meet the standards—this weakens the American brand! When this standard is not met, it is often because the brand owner either doesn't know about the established standards for making good quality products and is cutting corners in other areas, or doesn't care and is purposefully misleading consumers. Either way, it hurts the companies in America that are doing it the right way. 
Second, we provide education and consulting services to help new and emerging brands navigate the complexity of bringing high-quality, safe and legally compliant products to market. We help brands understand the importance of building a brand that is export-ready from the start, which can save millions of dollars over the life of the company. 
Third and just as important, we are providing a platform to tell the stories and celebrate the innovation that comes from a country that inspires entrepreneurs.   We connect this innovation to domestic and international customer by leveraging the community's voice as a powerful brand that is bringing high-quality and safe performance beauty and wellness products to the world. 
What's next for AMB?
In 2017, AMB launched our direct-to-consumer platform and revamped our website to further the message of a powerful community of brands that are bringing high-quality and safe performance beauty and wellness products to the world. We continue to develop great content through our weekly radio podcast and blog, which can be found on our website.  
Our community attracts new and emerging brands on the cutting-edge of the market. One example is our newest verified brand, Alex|Tay Custom Nail Color.  This brand combines technology, science and beauty to be the first true customized beauty solution in the market. With the Alex|Tay app, any one can snap a picture, tap a color, and create their own custom, high-quality polish and name it to reflect their sense of humor, fashion or mood. 
In 2018, Radio AMB will bring new and exciting interviews with industry giants like Harlan Kirschner of The Kirschner Group, the largest manufacture rep group in the world; Deborah Carver of Creative Age Publications, the oldest and largest media group in the beauty industry; Leland Hirsch, the legend behind Celeb Luxury; and many more. Radio AMB pulls the curtain back on the making of health and beauty brands and is designed for people that want to live a long and vibrant life.     
In 2018, we will take our education program to a whole new level with live-streaming videos hosted by one of our education partners, Universal Companies. As the largest spa distributor in North America, Universal Companies has opened a wellness and learning center in Southern California, and through our partnership will be providing opportunities for brands to use the center to build a community. We will also launch the American Made Beauty box that will be run twice in 2018, featuring AMB-verified brands and sold through prestige retail. 
For more information, visit AMB's official site here.