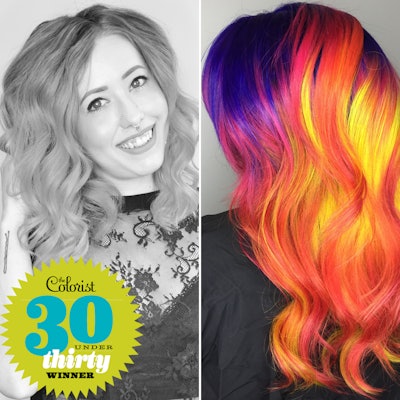 Every year, we honor 30 young colorists under 30 to find out what makes them so talented and successful. Get to know 2017 honoree Taylor Rae in our interview with her:
Name: Taylor Rae
Age: 28
Salon/ Company Name: Taylor Rae Hair Studio, Denver Colorado
Title: Color specialist, PRAVANA Color Collective Member
Instagram Handle: @Taylorrae_hair
Primary Color Line Used: PRAVANA
Beauty school/ location: Regency Beauty Institute, Arvada Colorado 
Tell me a little about yourself:
I'm a Denver-based stylist specializing in VIVIDS and color correction. Discovering my love for the beauty industry has been the most amazing experience. I am so happy to be able to do what I love and share it with everyone! 
What inspired you to become a colorist?
I have always been inspired by art, by the desire to stand out and be myself. I enjoy giving my clients the color that expresses their personality within, making them feel like a beautiful work of walking art. 
What are your goals?
The sky is the limit! Starting beauty school, I never imagined I would be where I am today. My goals are to keep saying yes to any and every opportunity and continue to be inspired by everyone in this wonderful industry! 
Any accomplishments so far in your career that you're particularly proud of?
This year I became a member of the PRAVANA Color Collective team. I was published in Modern Salon magazine for being one of 2016's best beauty influencers to watch. I was a two time BTC One Shot hair awards nominee in 2016.
What are your hair color specialties?
I specialize in VIVIDS, mermaids, unicorns and rainbows. You name it!
What do you love most about being a colorist?
I love that I get to express my creativity and vision through hair color. It challenges me to use my knowledge of color theory and my inner artist to give the client the fantasy hair of their dreams.
Please share a hair color, prep or color care tip.
Color care is so important for vivid colors. I recommend washing once to twice a week in ICE cold water with a sulfate-free shampoo and conditioner. My favorite is PRAVANA VIVIDS color protect line.
What is your favorite color trend/technique of the moment?
My favorite trend of the moment is bright peach and coral tones!