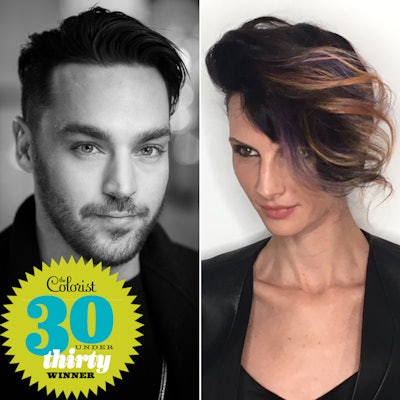 Every year, we honor 30 young colorists under 30 to find out what makes them so talented and successful. Get to know 2017 honoree Steven Picciano in our interview with him:
Name: Steven Picciano              
Age: 29
Salon/company name; location: Hair Machine Salon
Title: Education Director/Master Colorist
Instagram: @steviewondaz
Primary color line used: Goldwell
Beauty school/location: Long Island Beauty School, Hauppauge, NY
What inspired you to become a colorist?
I love being able to transform someone's look. A big color change can completely change the way people perceive someone. It  gives the client a huge boost of confidence and a new sense of self. I grew up around hair dressing; several of my family members are in the industry, and I was always so inspired by the impact they had on their guests. 
What are your goals?
Behind the chair, I just want to continue making people happy and living up to my reputation. In the industry, my goals are to become an influential member of the hair community. I'd like to be able to share everything that I have been so lucky to learn in the last 10 years and continue to learn from the best of the best.
Any accomplishments so far in your career that you're particularly proud of?
This past January, I became a member of Goldwell's National Artistic Team, and this past March my work was published online for the first time.
What are your hair color specialties?
I love to create hair color that improves over time. Rather than having hair color grow out in a few weeks, I love for a guest to return for maintenance looking almost as good as when they left. I also have a very keen eye for color, subtle nuances of tone make all the difference when trying to find the perfect pale blonde or choose a formula for corrective work.
What do you love most about being a colorist?
I love the impact we're able to make on a person. A strong haircut is a fantastic thing, but the perfect color to compliment someone's skin tone can really impact not only how they look, but also how they feel about experimenting with different looks in the future.
Who would you consider to be your mentors/role models, and why?
I've been very fortunate in my career. For a few years, I worked supporting artists on both the Goldwell and KMS teams. From each of them I have learned different things that have helped me along the way. The most impactful has been the two years spent apprenticing Rebecca Hiele, Goldwell's National Artistic Director. From Rebecca, I have learned more than just strong formulation and application; she has helped groom my eye to be extra sensitive to tone and light reflection and absorption. Key factors to hair for camera or stage. 
Please share a hair color, prep or color care tip/
Work smart not hard, I never allow myself to get into a situation where the hair will not allow the end result I've promised. If our guests hair will be compromised by over achieving the best plan is to come up with a solution for today and a plan for the future.
What is your favorite color trend/technique of the moment?
I find myself doing a lot of strategic foil placement and hair painting combinations. As color transitions out of gradient canvases into softer, more blended stories, I find the lightness from painting combined with the soft blending of foils creates something that exists and grows out beautifully.