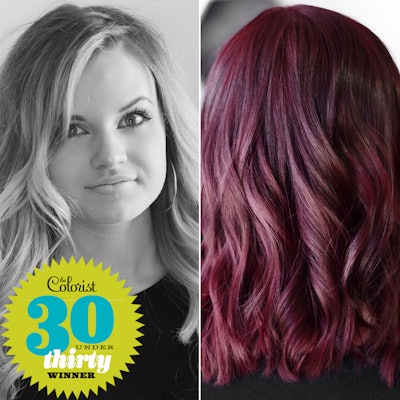 Every year, we honor 30 young colorists under 30 to find out what makes them so talented and successful. Get to know 2017 honoree Shannon VanFleet in our interview with her:
Name: Shannon VanFleet
Age: 26
Salon/company name: Simply
Title: Stylist and Educator
Instagram: @shannonvanfleet
Color line used: Redken 5th Ave
Beauty school/location: American Hair Academy, IA
Tell me a little bit about yourself:
I was born in Rockford, Illinois, where my entire family had resided their whole lives. When I was young, my parents took a leap of faith and moved several hours south to a small town to be house parents at a foster home for teens, and that is where I was first introduced to the craft! Two of the girls in the house went to beauty school and I was, of course, their guinea pig! After that, I was counting down the days until I could enroll! I was lucky enough to have the course available to me while I was still in high school, so I was licensed and working by age 18! I am still in a very rural area. I have come to love my small area and have learned that there is just as much opportunity for success here – you don't have to look very far to find it!
What inspired you to become a colorist?
The science! After beauty school, I continued on to obtain my applied science degree. You might not be able to tell by looking at me, but I love physics and biochemistry! I am up all hours of the night researching. My phone is filled with screen shot after screen shot of data – it's a bit ridiculous honestly. I love that I get to play "mad scientist" every day! So fun! 
What are your goals?
All I am hoping for is to share with other small town stylists that you don't have to let your location hinder your dreams! I could have easily blamed my rural place on this earth as the reason to not even try. However, my passion for sharing was never going to let my excuses outweigh it! I may live in a small town physically, but I also live in the world of social media, which is almost like the most populous place on earth, if you think about it! You just have to make yourself known!
Any accomplishments so far in your career that you're particularly proud of?
Obviously, we know by now that I love my small little whistle-stop. What you may not know is that I am actually on a billboard when you come into town! I was chosen to represent our local college and I am super proud of that. I am also proud to be a Redken Artist! It was an extremely hard journey and a dream that I had had for so long – I honestly can't believe that I'm on the other side of it now.
What are your hair color specialties?
I think I have done a good job of bridging the gap between natural and fashion colors. I love rose golds, plums, and deep-cherry reds. They are almost like office-appropriate fashion colors. We like to say, "Do you want your hair to whisper, talk or shout?" I think my specialty is definitely the talk: a good middle ground that people like myself can live in and feel cool without being too bold.
What do you love most about being a colorist?
I love experimenting! I love testing colors, making swatches and recording my findings! I never like to wing it. I want to know exactly what is going to happen at all times. That way, when I have a client that throws me for a loop, I know exactly what to do. I also love having those visuals to share with attendees in my classes to assist them in their daily venture to beautify the world!
Who would you consider to be your mentors/role models, and why?
Of course, people such as Sam Villa and Vidal Sassoon are my role models because of their innovation and passion. Still, what I find so awesome about our age of social media, is that my mentors and role models are also normal stylists I follow on Instagram who are behind the chair just like me! I am also so lucky to have support from my coworkers and even stylists in neighboring towns. I think it's amazing that in a cut-throat industry where cattiness soars, that these people would be so kind hearted and willing to build one another up!
Please share a hair color, prep or color care tip.
Everyone loves a shadowed root nowadays. One way I personally achieve a seamless blend is to layer my shadow root formula directly on top of my toner. For example, I will apply my ShadesEQ Gloss 09v all over and then immediately go in and reapply a shadow root of ShadesEQ Gloss 07nb to the scalp area. This gives a hazy depth at the base that I just love!
What is your favorite color trend/technique of the moment?
Rose gold. Yes, it has been around for a few years now, but I still love it! It can be universally flattering with just a slight shift in the formulation. It is also the perfect gateway fashion color – a very forgiving shade to try, and an easy way to explore the realm of supernatural hues!