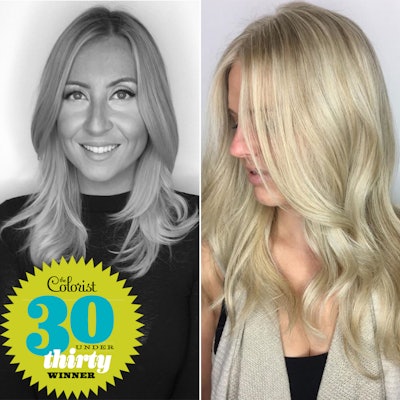 Every year, we honor 30 young colorists under 30 to find out what makes them so talented and successful. Get to know 2017 honoree Shannon Keeley in our interview with her:
Name: Shannon Keeley
Age: 26
Title: Owner & freelance stylist
Instagram: @houseofmorris
Primary color line: Kevin Murphy Color.Me
Tell me a little bit about yourself:
I am a freelance hair stylist, working in Ottawa, Canada. I studied hair styling at Marvel Academy and have taken educational courses with Kevin Murphy, Bumble & Bumble, Mane Addicts University and Wella. After working in the salon industry for over seven years, I was involved in a car accident that almost took my life. It resulted in 13 injuries, including three breaks to both my pelvis and back. My life changed overnight, but my passion for hair styling and color remained. I was determined to get back on the floor and make a name for myself in any way that I could. While I was rehabilitating and unable to work I spent hours building a vision, my brand, a blog and ultimately, House of Morris.
I launched my blog in March of 2015, then after nearly two years of rehabilitation, I started taking on one client at a time. Today, I can proudly say that I am nearly fully booked at my capacity and am learning and growing with this industry every day. I truly enjoy continuing to educate myself as a freelance hair stylist, specializing in balayage and foilage.  Every day I have the opportunity to work on my "HOM girls" creating lasting relationships and connections. Not only do I get to learn about their incredible lives, but together we create a look that will provide a sense of confidence for them to go out and tackle the world. This is without a doubt what I consider a dream job and it is what pushes me to stay motivated and inspired every day.
What inspired you to become a colorist?
From the age of 15, I knew I wanted to be a hair stylist. My mother used to get her hair done, and as a young girl, I was fascinated by the idea that making women look and feel beautiful could be a career option. As I began my career, I really resonated with color. I found I could be my most creative self when mixing and creating different looks to enhance their beauty. A combination of the right formula and pattern truly felt like art and I got to be the artist.
What are your goals?
I would really like to connect more with both stylists and clients through social media and blogging. I have spent a lot of time building my clientele and creating my social platforms, and I now feel like I am ready to dive in to the online world and connect with a larger following. I feel that our industry has always lacked in helping and connecting one another, and as social media has grown, it has opened up those lines of communication. I would really like to be a part of this on a much larger level moving forward.
Any accomplishments so far in your career that you're particularly proud of?
I am most proud of myself for finding the confidence at such a young age to go out on my own as a freelance hair stylist while putting myself and my work out there. I challenged myself to not only run my own small business, but create and design my online presence as well.
What are your hair color specialties?
My two specialties are balayage and foilage! I have always loved the natural look of free -ainted balayage and have attended many courses (specifically Tracy Cunningham's Education with Mane Addicts University in NYC) to help advance my techniques. I love trying different patterns and perfecting the look as the trend continues.
What do you love most about being a colorist?
I love being able to express myself creatively and really push the envelope. I find color to be beautiful; you can change the way someone looks by working with their skin tone, eye color and placement of color. Showing my clients the end result is such a satisfying feeling. It gives me such joy to see how confident and beautiful they feel after getting their hair colored with me.
Who would you consider to be your mentors/role models, and why?
In the industry: Celebrity stylist, Jen Atkin, has always been a major role model for me. Her hard work and dedication to growing this industry has inspired me to feel confident in being a freelance hair stylist. Not only had she tackled the styling world, but she had managed to launch maneaddicts.com with a major following, created an education company bringing the hair industry together (Mane Addicts University), and she's also pushed herself to launch her product line, OAUI.
Outside of the industry: My sister is one of my biggest mentors/role models. She has always proven that hard work and dedication will allow you to make a name for yourself no matter what industry you are in. She is under  thirty and has already accomplished so much. She helped me see my full potential and has mentored me on both my blog and entrepreneurship.
Please share a hair color, prep or color care tip. What is your favorite color trend/technique of the moment?
Never compromise the integrity of the hair! When in doubt, book more than one session with your client. I always encourage my clients to do their take home Olaplex #3 at least a week before coming in for their color. It helps prevent any change in porosity or breakage to the hair.