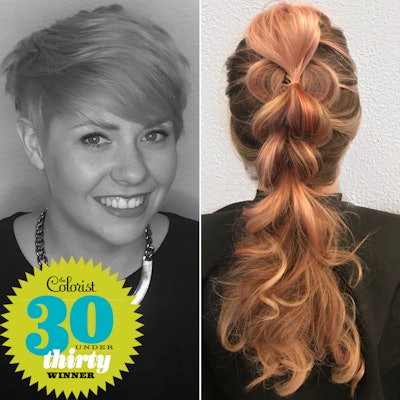 Every year, we honor 30 young colorists under 30 to find out what makes them so talented and successful. Get to know 2017 honoree Sarah Denning in our interview with her:
Name: Sarah Denning
Age: 24
Salon/company name: Salon Hyde Park
Instagram: @sdhairartist
Color line used: Matrix
Beauty School/locations: I trained in Scotland which means I served a 3 year apprenticeship within a salon company
Tell me a little about yourself:
I was a hairstylist in Scotland for three years before moving to America, although I have worked in the industry since age 14. I moved to Florida two years ago to travel, and I have loved every minute of being here.
What inspired you to become a colorist?
I love seeing people change! When you color your hair, you can become a whole new person!
What are your goals?
My goals are to have my work featured in magazines and become a NAHA finalist one day.
Any accomplishments so far in your career you're proud of?
I am really proud of becoming a Matrix educator, education has always been a passion of mine.
What are your specialties?
My hair color specialties are color correction and color melting.
What do you love most about being a colorist?
The thing I love the most is when you completely change your guest's color and it gives them more confidence and makes them happy.
Who would you consider to be your mentors/role models, and why?
My mentor is Jessie Lewis (my R.E.M.). She amazes me every day with her knowledge and work ethic! Jessie manages a large number of educators and still manages a salon and has a family!
Chrystopher Benson—his colorist skills are out of this world! I have had the opportunity to work with him a few times, and he is always so forthcoming with his knowledge and willingness to teach! I think that is amazing!
Please share a hair color, prep or color care tip:
The biggest tip I could give is always remember the color wheel! No matter what your doing, the color wheel is always the most important thing.
What is your favorite color trend/technique of the moment?
My favorite trend at the moment is color melting. I love that color melting can go from a very commercial look to the complete opposite—a high fashion trend!