In four short years, Jessica and Edward Le created a franchise empire that benefits everyone it touches, from its owners to customers and employees.
When Jessica Le's lashing hobby quickly turned into a high-demand service, she and her husband Edward knew they had a hot commodity on their hands. The duo opened their first Amazing Lash Studio in 2010 and hastily added five more corporate-owned studios to their portfolio before going franchise. That rapid expansion served them two-fold: One—to beat the competition. "I needed to expand rapidly in the Houston market to keep competitors from copying me," Le shares. Two—to ensure franchising lash extension services would be a feasible business model. "[I learned] how to best structure the business and iron out all the kinks so I could transfer that knowledge to all the franchisees once we went that route," she says. Another pre-franchising test? Pull Le, the face of the business, out of the equation. Though she was sad to say goodbye to her loyal clientele, Le (who was coincidentally due for maternity leave) trusted in her husband, a New York University business graduate with 10 years' experience running a company in the automotive industry. His belief: If her absence caused the business to drop, they didn't have a business model to be franchised. When the demand didn't falter, the two entrepreneurs bet on franchising in 2013.
RELATED: Spring's Eye-Opening Beauty Trends
Fast-forward to today: The Amazing Lash Studio Franchise employs over 2,500 estheticians and cosmetologists who have performed over 1,000,000 services, and can claim over 56,000 members. And, a true milestone: The 100th studio recently opened. "The extraordinary growth trajectory of Amazing Lash has proven their instincts to be correct!" says chief operating officer Heather Elrod.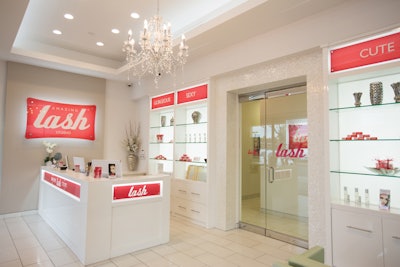 As Le structured the business, named one of Entrepreneur 500's fastest-growing franchises, she had a light-bulb moment when she looked at her future competition and noticed it lacked the type of model that drives repeat lashing customers who require regular maintenance. The solution: an economical membership program that benefits stylists, consumers and owners alike. "Membership-based business models allow customers to get services at a more affordable price, and it makes it more attractive to stylists because we're helping them build their books with recurring clients," explains franchisee owner Brett Phillips, who opened the aforementioned 100th studio in Snellville, Georgia. "I enjoy knowing that I'm not only providing a great service to our customers, but also a great career opportunity to my employees."
RELATED: Gentle Cosmetic Conditioners for Healthier Brows and Lashes
At Amazing Lash Studio well-priced lashes don't equal skimping on service. New stylists undertake a rigorous two-week training program to ensure they start at the top of their game. The franchise also utilizes a patented technique to apply its high-quality lash extensions (think: Single and Volume, Sexy, Cute, Natural and Gorgeous, and Solid or two-tone Blue, Purple, Red and Green), and offers a vast retail lineup of extension-care products such as makeup, styling wands and foaming wash. It's no wonder the studio retains a loyal following.
Sucess Secret 
"Our precision, patented lash application and attention to customer's desires and lifestyle [are keys to our success]," says Le. "We don't just apply lash extensions, we enhance the natural beauty of every guest, leaving them empowered to not just look their best, but feel their best."
Primo Products
Fan favorite Gorgeous lends lashes a little extra oomph, though clients can opt for another hue or style to transform lashes for any occasion. "One of the great things about our styles is customers can change their look whenever they want," Phillips says. Customers also love No. 1 retail-seller NatureLashes. "It works to grow and keep natural lashes healthy while wearing extensions," Elrod explains.
—by Molly Church