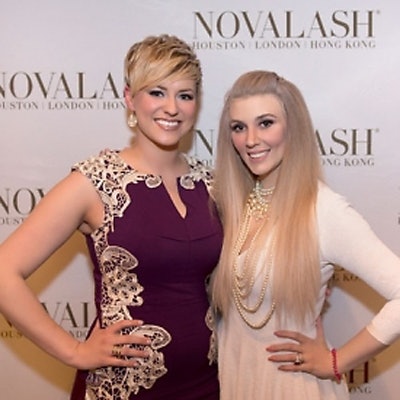 When NovaLash CEO Sophy Merszei created LASHoff, the first annual contest for eyelash stylists six years ago, she wanted to give entrants the opportunity to further develop not only their skills but also their businesses by recognizing their hard work in a segment of the industry that has seen increasing growth and consumer popularity. Tonight Merszei had the honor of announcing the company's newest Lash Artist of the Year winner, Maribeth Melton of Ardmore, OK, during a ceremony at Houston's Hotel Zaza.
Selected by a panel of six judges, Melton was flown to Houston for Merszei's announcement along with other LASHoff finalists Liz Lovell, Natalie McCarty and Celine Tran.
According to Merszei, Melton's work embodied everything NovaLash stands for. "Maribeth perfectly executed the technique, experience and safe approach necessary in creating the signature NovaLash eye look. It was clear that her ability and precision set her apart from her competitors. We had incredible talent this year, and while everyone did a fantastic job, there can only be one winner. Congratulations Maribeth!"
In addition to a prize valued at upwards of $10,000 in cash, prizes and travel opportunities with the brand, Melton also receives marketing, advertising and PR support to help her achieve the business goals she has outlined as owner of Mariposa Esthetics Spa. She will also prequalify to compete in Lash Wars Las Vegas, hosted by the National Eyelash Education Safety Association (NEESA).
McCarty was also honored, as she was selected the Fan's Choice winner. As Brand Ambassadors, Melton and McCarty will put their skills in motion among their peers at the upcoming NY show. While at the show, the duo will be working on video shoots that highlights tips and tricks. After New York, it's off to Las Vegas and Dallas for more shows and competitions.
"It's so exciting to be honored in this way," said Melton. "In addition to the prizes, the idea that I get to travel all over the country and interact with other beauty professionals is amazing. I can't wait!"
[Image: LASHoff winner Maribeth Melton (left) with Sophy Merszei, CEO, Novalash (right)/Courtesy of NovaLash]