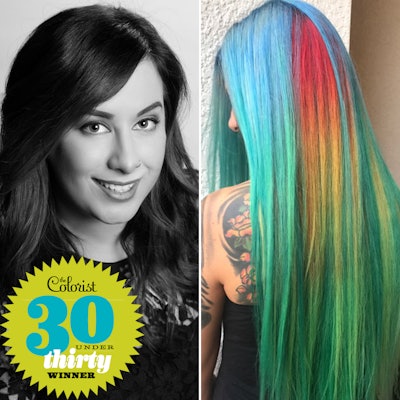 Every year, we honor 30 young colorists under 30 to find out what makes them so talented and successful. Get to know 2017 honoree Laura Carmichael in our interview with her:
Name: Laura Carmichael
Age: 29
Salon/company name; location: Rio Hair Studio, Jacksonville, FL
Title: Level 5 stylist
Instagram: @laura_carmichael
Primary color line used: Redken
Beauty school/location: Paul Mitchell, Jacksonville, FL 
Tell me a little bit about yourself:
I have a five-year-old daughter who is my absolute inspiration! I love being a Redken Artist because of all the stylists I get to meet and connect with. Education is so important to me, and I am on an endless pursuit for knowledge. I love to share with others along the way!
What inspired you to become a colorist?
The science and chemistry. I am a total hair nerd!
What are your goals?
My goal is to touch as many stylists' lives as I can, to share everything I know and to continue to grow as an individual.
Any accomplishments so far in your career that you're particularly proud of?
Becoming a national Redken Artist first and foremost, and having three features in print publications this year.
What are your hair color specialties?
Color correction, blonding, and vivids.
What do you love most about being a colorist?
Having the ability to create and transform through chemistry and creativity.
Who would you consider to be your mentors/role models, and why?
My first color theory teacher, Jamie Defoggi. She taught me how to see color differently and how to be inspired through art and my surroundings. She helped me to see that I could find placement and color inspiration everywhere!
Russell Ramono, who I owe so much to my beginning and for helping me grow my love of hair color science.
George Alderete, who inspired me to get it all started.
Please share a hair color, prep or color care tip.
I love using Redken's Pre-Art and Hair Cleansing Cream on all of my blondes to brighten them up! I also love using the "drop method" to ice out my blondes. For example, adding 3 drops of Redken Shades EQ in 01b to my level 9 and 10 toning formulas.
What is your favorite color trend/technique of the moment?
Babylights and balayage with a mermaid overlay!