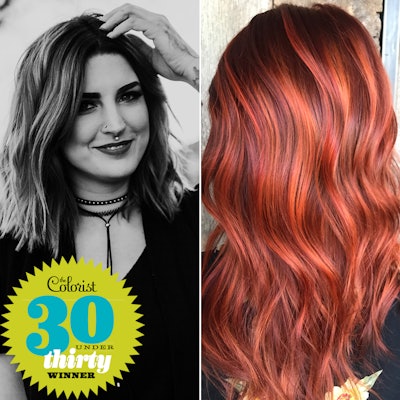 Every year, we honor 30 young colorists under 30 to find out what makes them so talented and successful. Get to know 2017 honoree Erin Wheaton in our interview with her:
Name: Erin Wheaton
Age: 25
Salon/company name: Blu Skies Salon, Springfield, Missouri
Title: Stylist and Artistic Director at Blu Skies Salon & National Educator for John Paul Mitchell Systems
Instagram: @erinwheaton
Primary color line: Paul Mitchell Professional Color
Beauty school/location: Paul Mitchell The School Springfield
What inspired you to become a colorist?
Growing up I was always the "art kid." I was constantly coloring, drawing and painting. I guess I've always been in love with color. Now I get to use it differently, in a way that I love even more.
What are your goals?
I want to always continue to get better at my craft. I want to learn and grow every day, while continuing to share my knowledge with other inspired stylists. I want to be a great colorist and a great educator.
Any accomplishments so far in your career that you're particularly proud of?
Becoming part of the JPMS family as an educator! I can't wait to see where it takes me.
What are your hair color specialties?
I'm all over the place. I adore beautiful, natural balayage, as well as bold fashion colors. And everything in between. I also love the art of formulating reds, brunettes and even unnatural shades with oxidative colors.
What do you love most about being a colorist?
The balance between creativity and precision. You have to know the rules in and out; then you can learn to break them or use them in creative ways. I love that it's a mesh between art and chemistry.
Who would you consider to be your mentors/role models, and why?
I am so lucky to have so many people I'd consider mentors and role models. Two of whom are the owners of the salon I currently work in—Katie Henderson and Phillip Burmood. They believed in me from the very beginning of my career four years ago, when I started working behind the chair. I continue to do so to this day.
Please share a hair color, prep or color care tip:
I love doing my best to keep a clean color cart while I'm working. Keeping my cart clean keeps my work clean, and it translates to the head! My goal is to make the whole application beautiful to look at from start to finish. This work ethic builds value in your service and helps to make you better stylist every day. As far as a color, one of my favorite ashy formulas right now is Paul Mitchell's The Demi 9PA + 9A on top of a beautiful blonde. Or for brunette, the colorXG 4RB + 5G. It's the perfect auburn.
What is your favorite color trend/technique of the moment?
I love getting to do beautiful dimensional balayage with an overlay of a fashion tone. Whether it's a pastels or a bold tone, I love the natural, lived-in component contrasted with a rosy pink, beautiful blue, or whatever! It's a mesh of two of my favorite things.