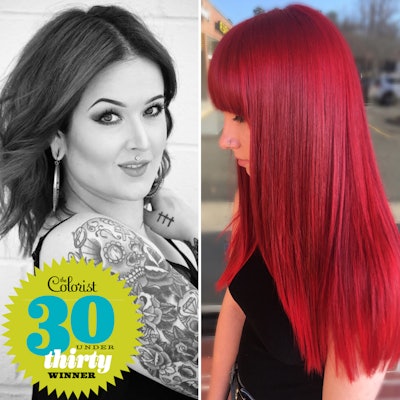 Every year, we honor 30 young colorists under 30 to find out what makes them so talented and successful. Get to know 2017 honoree Cierra Fremont in our interview with her:
Name: Cierra Fremont
Age: 25
Salon/company name: 3 Bowls of Color Salon
Title: Master Stylist
Instagram: @cierra.fremont
Primary color line used: Eufora Color
Beauty school/location: New Horizons Regional Education Center/ Hampton, VA
Tell me a little bit about yourself:
I'm a Leo-Virgo cusp, and that should say it all. I love live music, good food, craft beers and of course hair. I've been a stylist since I was 17, and I can't imagine myself anywhere else.
What inspired you to become a colorist?
Hair is my canvas. I've always been an artist. I loved to paint and draw all my life. So becoming a colorist has really been a way of creative expression for me. Allowing people to see themselves transform with a few placements of highlights is really empowering. I love it.
What are your goals?
I want to be a salon owner. That's in my five-year plan. I feel like your creative environment is everything. I want to create a deep-rooted salon culture and have a happy team behind me.
Any accomplishments so far in your career that you're particularly proud of?
I began my journey as a Eufora educator in the past two years, and it's been very fulfilling. I love being able to share what I have up my sleeve with others. It makes me look back and see that I have come a long way.
What are your hair color specialties?
I love fashion colors. Eufora's Artisan Colors are my jam! It's like a real motion painting on someone's head—so inspiring! I also love a good balayage. Creating effortless maintenance-friendly color for my guests is awesome. They still look great after four months!
What do you love most about being a colorist?
Being able to see people look at themselves in a new light is beyond rewarding. I remember I did a woman's hair once, and she gave me creative freedom to surprise her. So we're all done with her service, so I turned her around for the big reveal. She started crying. I think to myself, "Oh no, she hates me; she hates her hair; I ruined her life." It turned out she loved it, and she then turned around and hugged me! It was then that I realized how much of an impact I could be in people's lives.
Who would you consider to be your mentors/role models, and why?
I really look up to a lot of people in my Eufora family. Being with them is my home away from home. In particular I really love Dee Fortier's work. That woman's talent is unreal! She amazes me. She does a lot of Eufora's creative designs.
Please share a hair color, prep or color care tip.
BLOW DRYING! I think a lot of people miss the mark on how to properly care for color-treated hair. Say someone's been lightened a lot, tearing through your wet hair with a brush will just cause more damage. Hair is like a rubber band when it's wet—it'll stretch and stretch and snap—especially chemically treated hair. Learning how to properly rough dry your hair to about 70% and then break out your brushes will do amazing things for your tresses. And of course, using what your stylist recommends for your aftercare regimen!
What is your favorite color trend/technique of the moment?
I'm loving this avant-garde color melting vibe I'm seeing in these fashion colors. Melting 5-6 formulas in one section. It's tedious work, but the payoff is so worth it!