As a backstage fixture at New York Fashion Week (she's keyed shows like Libertine and Nicole Miller), makeup artist Katie Jane Hughes packs her kit with items that reveal her artistry through a multitude of scenarios: dim backstage lights, bright runway camera-flamera-flashes, on-site designer tests—you name it. Her view on beauty: It's all about balance. "Balance in life shows on your face. Balance with a beauty look is just as important; take one thing too far, like the complexion or brows, and the whole look goes off-kilter," she says. Here, Hughes shows the products that help her bring on that much needed beauty balance.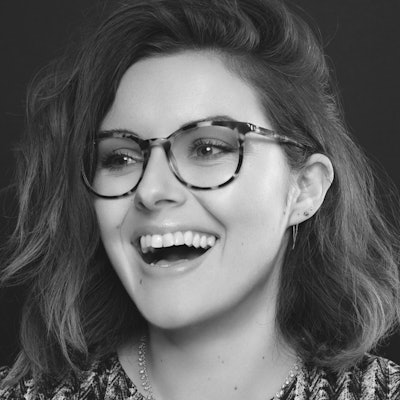 RELATED: The Elongated Smokey Eye Receives a Sparkling Update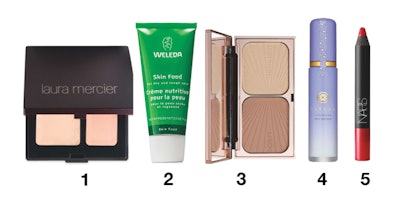 1) For Flexible Coverage: Laura Mercier Secret Camouflage "I manipulate the full-coverage finish with my skin prep: Get the skin dewy first and then buff on the concealer with a soft brush for glow-y, medium coverage. Or, start with drier skin and the coverage will be heavier."
2) For Otherworldly Gleam: Weleda Skin Food "I use it as a glow-y face cream and as a highlighter for the high points of the face. It works beautifully under full-coverage makeup and doubles as a great eye gloss, too."
RELATED: Industry Tips For Makeup Artists From Beauty Photographer Dorit Thies
3) For a Born-With-It Glow: Charlotte Tilbury Filmstar Bronze & Glow "Somehow, this bronzer looks like it's a part of you—like you're born with this glow. It's not overly warm and therefore doesn't build too orange on skin."
4) For Reviving Skin: Tatcha Luminous Dewy Skin Mist "I love this on set because if skin is looking dull and over-powdered, this milky mist brings skin back to life in one spritz."
5) For a Perfect Matte Red Lip Nars: Velvet Matte Lip Pencil in Dragon Girl "The pencil is super-easy to use, the matte formula doesn't dry out lips and this particular shade suits everyone."