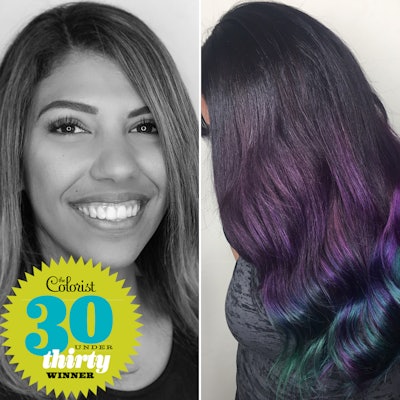 Every year, we honor 30 young colorists under 30 to find out what makes them so talented and successful. Get to know 2017 honoree Ashley Lantz in our interview with her:
Name: Ashley Lantz
Age: 29
Salon/company name; location: TressPassing Salon Avondale AZ
Title: Studio Owner/Matrix Artistic Educator and Color Master
Instagram: @AshleyLantzHair
Primary color line used Matrix SOCOLOR, Color Sync, and Color Insider
Beauty school/Location: Carsten Aveda Institute Tempe, AZ
Tell me a little bit about yourself:
I am 29 years old, born and raised in Phoenix, Arizona. I am in my 10th year of doing hair, and I work out of my own studio in the West Valley. As an Artistic Educator for Matrix, I teach color classes in my free time. Any remaining time is spent traveling with my husband or at home with our two dogs.
What inspired you to become a colorist?
Chemistry. One of the hardest things for me in high school was chemistry, but when I started cosmetology school, approaching it from the hair-color angle, it all clicked. I still am very intrigued by that side of the industry, and I love educating people on what goes on while the color processes.
What are your goals?
I hope to become a Board Certified Colorist and shoot a NAHA submission within the next two years. Long-term, I would really love to be a part of the development of a color line.
Any accomplishments so far in your career that you're particularly proud of?
In 2015, I was featured as a Rising Color Star in The Colorist magazine, and in November 2016, I attended Color Mastery at the Matrix Global Academy and achieved the title Color Master. It was a challenging and humbling experience that has changed the way I approach my color situations every day since. I would do it again in a heartbeat!
What are your hair color specialties?
What I consider "Transitional Color Correction." Basically it's insuring the maintained integrity of the hair and wearable colors throughout the process. I've also been doing a lot of watercolor balayage, which has transitioned more than a handful of my clients into vibrant, semi-permanent colors.
What do you love most about being a colorist?
The thing I love most about color at the moment is seeing how many of my clients have been rocking unconventional colors like they're natural—especially when it is the ones that thought they never would be able to. Changing someone's mind about how they can wear a color, then watching them walk out with that color confidently, is what keeps me motivated.
Who would you consider to be your mentors/role models, and why?
Chrystopher Benson is definitely top of the list for role models. I have worked a handful of model rooms with him, and have always been inspired by his shots. It wasn't until I got the chance to work hands on with him at the Global Academy that I truly felt like I had an "a-ha" moment with color placement and synergy. I am truly honored to be a part of the same education team as someone of his stature.
Please share a hair color, prep or color care tip.
When refreshing color with demi-permanent or semi-permanent I always add Matrix Bond Ultim8 to my formulas. I also make sure to send all of my clients home with a product that has UVA-UVB protectant in it, since we live in a desert, and your hair needs sunscreen too.
What is your favorite color trend/technique of the moment?
Holographic Color Melt!! It's using multiple tones in the same section to create movement within the interior of the entire palette. I love that you can do this technique with natural and vibrant shades.