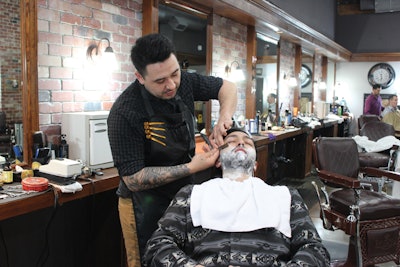 A little more than four years ago, Throne barbershop was nothing but a dream concept that Bobby O'Dell and Sang Nguyen hoped to bring to life. They both felt that male bonding had fallen by the wayside and needed to be resurrected. "Our girlfriends would go and get their hair and nails done and have these cool bonding experiences," O'Dell says. "[We thought that with Throne], we could bring back male bonding." It took two years of planning, and in 2014 Thorne opened its doors in Portland, Oregon, with nine chairs and 12 barbers on staff.
RELATED: MITCH Wants To Send You To England to Attend an English Premier League Game
The decor can best be described as traditional vintage meets contemporary cool. Each "throne," or barber chair, in the shop is custom reupholstered by Frankie Designs. "They are all refurbished antique chairs," says O'Dell. "We spent a good year mining antique stores from Portland to Seattle to find vintage antiques for the shop." Each station is equipped with rich wood and exposed brick effusing the vintage aesthetic. "The idea behind Throne is that no matter how old you are, whether you are 12 or 70, you can come in and get treated like a king," he says.
Clients can relax before or after services in the lounge area and watch TV or surf the internet. The barbershop also features a full bar offering 24 liquors, six beer options and kiddie cocktails. For the little guys getting a first haircut or just stopping by for a regular trim, Throne gifts them a comb or sample-size product to make each visit a memorable experience.
VIDEO: Irish Barber Documentary 'GRUAIG' Trailer Debuts Online
"Sang has a true passion for barbering and I have a passion for business," says O'Dell, and that drive has proved successful: The pair is set to open a second shop this summer. At the new location, the hours will remain the same as will the services offered. "We like structure and want to deliver the same standard of service our clients have come to expect," says O'Dell. After all, Throne lures clients from across the country for its unique experience. "People come to Portland from New York, and the first stop they make is our shop," O'Dell asserts. "We have clients that live over five hours away and they will drive in, get a cut, have lunch, and then drive back all in the same day. They make the trip and come back every two weeks. It's a beautiful thing."