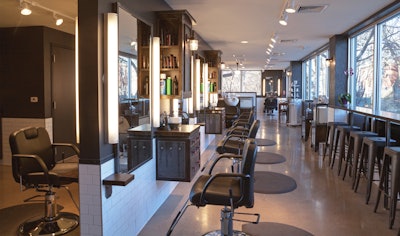 "If you build it, they will come," was the motto for Theri DeJoode and Erica Grabcyzk when they established Groom for Men, an upscale urban oasis in Wisconsin. The concept for Groom developed organically after DeJoode moved to Milwaukee in 1999. "Men's grooming [has been] experiencing a renaissance," says Grabcyzk, but there was a lack of full-service men's specific grooming salons. So, the pair created a go-to salon for men where they could have their every grooming need met.
RELATED: The Coolest Lady Barbers of Instagram
Groom lures men into the salon with its distinctly masculine decor. The walls are true chalkboard slate and are paired with white subway tiles and dark cabinetry. There are 11 stations—some double for shaving and face waxing—and two chairs designated for chemical services. (Other waxing services are performed in private rooms.) "We wanted the aesthetic of Groom to be classy, distinctive and clean," says Grabcyzk. Once in, the salon keeps clients there with the breadth of services offered—color, gray blending, facials, body waxing and even "guy- zilians" for meticulous manscaping—and keeps them coming back with monthly promos that introduce add-on services.
RELATED: Time-Honored Barbing at Barber of Hell's Bottom
A licensed cosmetologist, DeJoode developed her specialty in men's grooming after working as tech director for American Crew and creating the format for their education. She developed a curriculum for the Groom staff to ensure that each stylist is trained in the same program and expertly skilled in the salon's signature services. "All of the training is done in house," says Grabcyzk. "The three-month cutting program includes complete training for building men's shapes using the shear, razor and clipper. The straight razor shaves are performed as well as the traditional 14-stroke shave." In-house education also includes skin care and body waxing. "The whole training program takes about six months, one-on-one, director to student," says Grabcyzk.
"Men are being flooded with tips and suggestions through mainstream and social media," says Grabcyzk. And Groom provides the expertise for those men to follow the trends.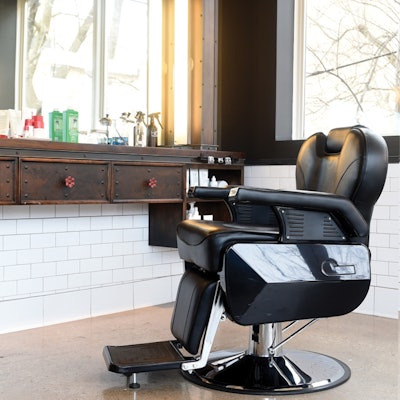 [Images: Courtesy of Groom for Men]