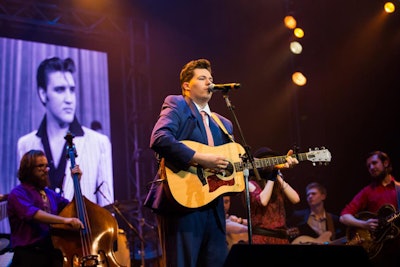 For the past year, American Crew has been celebrating the style of original icon Elvis Presley, sharing his legacy with younger generations through cutting-edge grooming products. In continuing their tribute to Elvis, the brand is offering one young performer the chance of a lifetime: sponsoring and styling Berklee student Jonathan O'Neal as he performs at the legendary home of The King of Rock and Roll, Graceland. O'Neal will be showcased during Elvis Week, which celebrates Elvis' life through music, movies and special guests. This year, Jonathan is one of those special guests.
As the culmination of American's Crew's Style Makes an Icon program, in partnership with the Berklee College of Music, American Crew will be traveling with O'Neal to Memphis, Tennessee where he will have two separate performances on August 15th. The performances are scheduled to happen prior to a candle light vigil, to mark the 40th year since Elvis' passing.
O'Neal's journey began last April, during a weeklong workshop at Berklee's Institute for Creative Entrepreneurship (BerkleeICE) in Boston, Massachusetts. American Crew, who last year released a line of special edition Elvis Presley grooming products, sponsored the Style Makes an Icon workshops at BerkleeICE, set up to teach the next generation of artists how to cultivate their own personal style. O'Neal was selected by American Crew Founder, David Raccuglia, to bring his style and talent to the crowds at Memphis.
Now O'Neal, a 21 year-old Oklahoma native, continues his journey with American Crew in Elvis' hometown: He will perform twice in Memphis with his four-person band, The Rumors, on August 15th, including a show at Graceland, as part of Elvis Week 2017, and a show at the iconic Hard Rock Café to close out the trip.
"It's been an exciting road to Memphis and I'm thrilled to work with American Crew to elevate my look for the event,' said O'Neal. "I grew up listening to 50's rock artists and am heavily influenced by that sound—and of course, that clean, classic American style. Young musicians owe a huge debt to Elvis, and I'm humbled to have the opportunity to be 'The King of Rock and Roll' for a day."
Mike Sharkey, American Crew's Senior Global Education Manager will be joining O'Neal on that journey as he styles him to take the stage. "I first had the pleasure of styling Jonathan during the Berklee competition and was struck by his exuberance, energy and passion for what he does," said Sharkey. "The key inspiration for his Memphis look is clearly going to be Elvis' pompadour, which is a very classic look for American Crew, and one that suits Jonathan extremely well. We are looking forward to honoring Elvis' iconic style in a way that is also true to Jonathan's personality."
"Jonathan embodies the enduring impact Elvis has had on today's young artists, and the lessons in confidence and classic style that we still draw from his legacy," American Crew founder David Raccuglia said. "We are excited to support Jonathan on the next step of this journey and to see him shine as he takes the stage in Memphis."
[Image courtesy of American Crew]