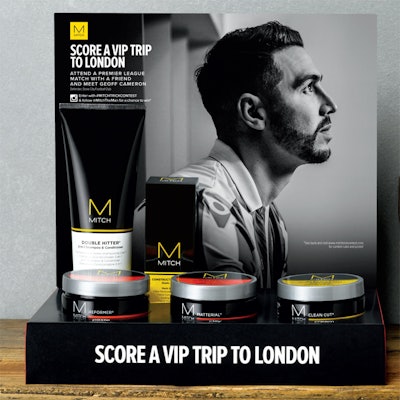 This year marks the one-year anniversary of American professional soccer player Geoff Cameron's three-year contract with John Paul Mitchell Systems' (JPMS) MITCH line, a men's haircare brand geared toward the more active and on-the-go modern man. As the Global Brand Ambassador for the leading men's haircare brand MITCH, Cameron is the perfect representative. One of the most accomplished American soccer players of the modern era, Cameron is one of only three American players in the Premier League starting at fullback for Stoke City as well as for the U.S. Men's National Team. Always an advocate for health, wellness, and an active lifestyle, JPMS is excited to celebrate this partnership and announce its latest in giveaways and contests: The MITCH Trick Contest. This year, JPMS wants MITCH fans to participate in their very first global contest for a once-in-a-lifetime chance to fly to London and meet Cameron.
RELATED: John Paul DeJoria is Variety Magazine's 2017 Philanthropist of the Year
With an Instagram post of the best trick in town, fans will be entered to win a trip to London with a friend, a meet and greet with Cameron, and the chance to see him play in the Premier League. The MITCH Trick Contest is where athletes and avid fans alike have the chance to submit their best sports-related trick on Instagram using #MITCHTRICKCONTEST and by following @MITCHTHEMAN. Think juggling, half-court shots, Frisbee target throws... whatever you can dream up! Tricks with MITCH products are appreciated, but are not required. There will be one Grand Prize Winner, five Runner- Up Winners and 10 Second Runner-Up Winners. Winners will be selected by MITCH and Cameron. Must be at least 18 to enter.
To Enter the Mitch Trick Contest:
1. Make a video of yourself performing a sports-related trick. You must be performing the trick, even though we encourage your friends to help you film! This can be something highly skillful or super creative. Make it fun, but you must appear in the video performing the trick!
a. HINT: Look to @GeoffCameron and @MitchTheMan for trick-spiration.
2. Upload your trick video to your Instagram, using #MITCHTrickContest in the caption.
3. Follow @MITCHTheMan. 
VIDEO: Irish Barber Documentary 'GRUAIG' Trailer Debuts Online
Grand Prize Winner Receives
 A trip to London, England.
Two round-trip tickets for winner and a guest.
Transportation from airport to hotel will be provided by John Paul Mitchell Systems
Three-night stay at a four-star rated hotel in London.
One hotel room for winner and guest. Grand Prize Winner will be notified of hotel name.
Two VIP tickets to a Premier League soccer match
Enjoy a Stoke City home game with VIP seating in the Tony Waddington Suite. Includes a complimentary three-course meal and half and fulltime refreshments. After the match, meet Geoff Cameron. Dress attire no ripped or faded jeans, sneakers or football colors allowed.
Train transportation to and from game via London Euston Station on Virgin Trains.
Grand Prize Winner can choose game and date they want to attend based on the Stoke City home game schedule (which does not include the quarter- or semi-finals). Please visit here to view schedule released July 2017. Trip to London will coincide with Premier League season schedule, seat availability and winner's schedule from January 2018-May 2018.
Meet & greet with Geoff Cameron and receive a signed Geoff Cameron Stoke City jersey.
Five Runners-Up Receive:
Each of the five runners-up will be shipped one Stoke City jersey signed by Geoff Cameron.
10 Second Runners-Up Receive:
Each of the 10 second runners-up will receive one year's worth of free MITCH product, including at least one each of the nine MITCH products. 
For more information, please visit www.paulmitchell.com