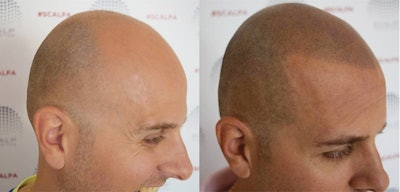 Maybe he's born with it, maybe it's SMP. Scalp micropigmentation (SMP) is rapidly gaining popularity as a non-surgical solution to hair loss. The procedure has no lengthy healing period and can be accomplished in a few visits. Certified technicians use tiny needles—much smaller than standard tattoo needles—to apply natural pigments to the epidermal layer of the scalp. The tiny scalp tattoos replicate the natural appearance of hair follicles and provide the look of a full, shaved head. Most states require certification and licensing through the Department of Health to practice.
RELATED: The Top Men's Haircuts for 2017
"You need training and a light touch to prevent the helmet head look," says Jeff Villenas, Chicago-based SMP educator and artist with the Picasso Group. "Technique is extremely important. You can't approach the front hairline the same way as the crown. You have to consider the head shape and density and sensitivity of the skin." Villenas applies charcoal-based organic ink with two different needles at various depths for a natural finish.
RELATED: Celebrity Barber Richie Munoz Shares His Top 4 Men's Grooming Must-Haves
Skin tone and hair color are also factors. Debi Barton, owner of Scalp Ink CT in Milford, Connecticut, uses three shades—light, medium and dark—to blend and match the client's natural color, and she reviews old photos for placement of the hairline. "A full bald head can be completed in three sessions. Price is based on measurements of the scalp and the area to be covered," Barton says. SMP also simulates full hairlines, enhances density and camouflages the symptoms of alopecia, scars, burns and birthmarks. 
[Image: Courtesy of Jeff Villenas, work by master artist Jose Santiago]